PSB Speakers Center Channel Speaker - Imagine XC
PSB Speakers Center Channel Speaker - Imagine XC
Imagine XC
Availability
Schedule Delivery
---
Maximum Performance
The Imagine XC is a centre channel speaker engineered to maximize performance in multi-channel systems. Just as any theatrical presentation uses the centre channel as its anchor, the Imagine XC is the centre of the Imagine X series. For hifi theatre enthusiasts who are searching for an incredibly precise centre channel speaker, but need an affordable solution, consider the Imagine XC.
150 watts input power
1" (25mm) titanium dome tweeter with ferrofluid and neodymium magnet structure
2 x 5¼" (133mm) Clay/ceramic reinforced injection molded polypropylene cone woofers
Bass reflex (ported) design
Gold-plated 5-way binding posts
Black ash vinyl finish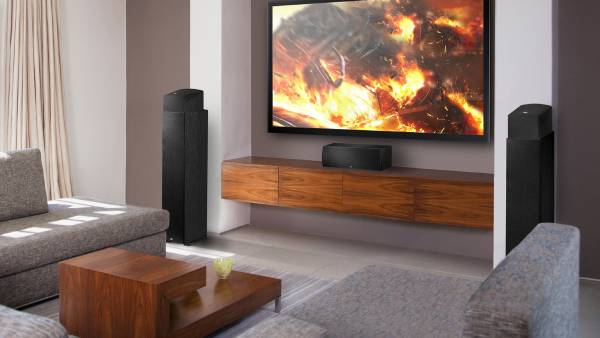 Performance focused
Featuring a dual-woofer horizontal format with a pair of 5¼" (133mm) woofers, the Imagine XC is designed for optimal performance when paired with other components in your setup. PSB has matched the Imagine XC carefully in timbre with the other Imagine X models for the best versatility when setting up your home theatre system.
Experience rich, detailed sound
Even the most demanding audiophile will appreciate the rich and detailed cinematic sound that flows from this speaker. Thanks to PSB's expert approach to the design of the Imagine XC, music and movie sound effects have an added layer of authenticity. With the ability to bring out the musical essence of everything you choose to play, the XC is a welcome addition to your system setup.
Simple and attractive
Just like the other models in the Imagine X range, the XC boasts a simplified and attractive black cabinet design, and can easily be incorporated into any room in your home with ease. The minimalist design of this centre channel speaker allows it to blend well into your system setup and it will also look at home next to modern flat profile TVs.
Frequency Response
On Axis @ 0° ±3dB
50 – 23,000Hz
On Axis @ 0° ±1 1/2dB
65 – 20,000Hz
Off Axis @ 30° ±1 1/2dB
65 – 10,000Hz
LF Cutoff -10dB
45Hz
Sensitivity
Anechoic Chamber
88dB
Listening Room
90dB
Impedance
Nominal
8 Ohms
Minimum
4 Ohms
Input Power
Recommended
20 – 150 Watts
Program
150 Watts
Acoustic Design
Tweeter (Nominal)
1″ (25mm) Titanium Dome with Ferrofluid , Neodymium Magnet
Woofer (Nominal)
2 x 5 1/4″ (133mm) Injection Moulded Clay/Ceramic reinforced , Polypropylene Cone , Rubber Surround , Dual Magnet
Crossover
1,800Hz, LR4
Internal Volume
0.58 cu ft (16.4L)
Design Type
Bass Reflex Rear Port
Dimensions / Weight / Finish
Size (W x H x D)
19 1/8 x 6 3/4 x 11 1/8″ * 485 x 170 x 280mm
Weight
Net – 19.8lb (9kg)/each , Sipping – 22.2lb (10.1kg)/each
Finish
Black Ash
FM Audio Video balances product selection and depth with accessibility and a customer service staff that can demystify your home stereo, car audio or home theatre purchase. We have years of combined consumer electronics experience and our wealth of knowledge and understanding is the asset that helps us shine in a ocean of complacency and misinformation.
Expert
Custom Installation
We offer the finest custom installations along with expertise and personal service.
Expert
Custom Installation
We offer the finest custom installations along with expertise and personal service.
Authorized Dealer
Car Audio
FM Audio Video has been satisfying the Car Audio & Multimedia needs in Brantford and surrounding areas.
5 Pounds of Coffee
Price Match Guarantee
We will give you 5 pounds of coffee if we don't beat your best offer.
We have a large collection of exceptional brands
---