Bowers & Wilkins CT 800 Series 3-way closed-box system CT8 CC
Bowers & Wilkins The CT8 CC is the perfect centre speaker for the ultimate home theatre experience. The same driver line up as the CT8 LR make for a seamless experience.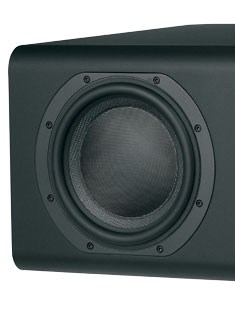 The CT8 CC centre speaker borrows its NautilusTM-inspired driver line-up from the CT8 LR front speaker. The same Rohacell ® bass drivers, woven Kevlar ® FSTTM midrange driver and metal dome high frequency driver are employed, but arranged with the twin bass drivers positioned either side of the combined midrange and high- frequency adjustable pod.
Specifications
Technical features
Adjustable midrange/tweeter head, Kevlar® brand fibre cone, FST™ midrange, Composite sandwichcone bass, Matrix cabinet, Active bass crossover, Laser alignment device
Description
3-way closed-box system
Frequency range
-6dB at 23Hz and 40kHz
Sensitivity
93dB spl (2.83V, 1m) (mf/hf)
Nominal impedance
8? (minimum 4?)
Recommended amplifier power
50W – 1000W into 8? on unclipped programme
Max. recommended cable impedance
0.1?
Dimensions
Height: 1100mm (43.3 in), Width: 325mm (12.8 in), Depth: 550mm (21.65 in)
Net weight
85kg (187 lb)
Finishes
Cabinet: Black