Yamaha 8" Powered Subwoofer - NSSW050B
Yamaha 8" Powered Subwoofer - NSSW050B
NSSW050B
$

349.00

On Sale


Save $50.95
---
New Twisted Flare Port contributes to clear and tight bass
Advanced YST II (Yamaha Active Servo Technology II)
20 cm (8") cone woofer
Stylish addition to any room

New Twisted Flare Port Produces Clear and Tight Bass
The all-new Twisted Flare Port takes advantage of extensive subwoofer development experience. The flared, gently twisting shape diffuses the vortex of air generated around the edge of the port, creating a smooth flow of air. This reduces extraneous noise not present in the original input signal and provides clear, accurate low frequency reproduction. From special effect sounds in movies to the atmosphere of a live venue, you hear bass that is clear, tight and realistic.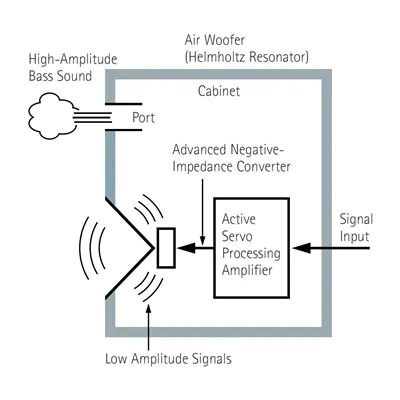 Advanced YST II for Awesome Deep Bass
Developed by Yamaha, the Advanced YST II (Yamaha Active Servo Technology II) combines negative-impedance and constant-current principles to drive the speaker cone with even tighter control than the previous version. Using Advanced Negative Impedance Converter (ANIC) circuits, this system dynamically optimizes effective speaker impedance to maintain excellent linearity. This means more stable and accurate low range response, not to mention higher sound quality.
Stylish Addition to Any Room
The gently rounded form with a slanted front surface presents a stylishly elegant appearance. Designed to be unobtrusive, It's sure to look beautiful in a living room or home theatre room. Offered in black, walnut and white, so you can choose the model that best matches your other speakers.
Specifications
Driver
20 cm (8") cone
Dynamic Power
100 W (5 ohms)
Output Power
50 W (100 Hz, 5 ohms, 10% THD)
Frequency Response
28–200 Hz
Advanced YST
Yes
Twisted Flare Port
Yes
Dimensions (W x H x D)
291 x 292 x 341 mm; 11-1/2" x 11-1/2" x 13-3/8"
Weight
8.5 kg; 18.7 lbs.
FM Audio Video balances product selection and depth with accessibility and a customer service staff that can demystify your home stereo, car audio or home theatre purchase. We have years of combined consumer electronics experience and our wealth of knowledge and understanding is the asset that helps us shine in a ocean of complacency and misinformation.
Expert
Custom Installation
We offer the finest custom installations along with expertise and personal service.
Expert
Custom Installation
We offer the finest custom installations along with expertise and personal service.
Authorized Dealer
Car Audio
FM Audio Video has been satisfying the Car Audio & Multimedia needs in Brantford and surrounding areas.
5 Pounds of Coffee
Price Match Guarantee
We will give you 5 pounds of coffee if we don't beat your best offer.
We have a large collection of exceptional brands
---