Sennheiser Headphones Headset On Ear HD 2.30G(B)
Sennheiser Headphones Headset On Ear HD 2.30G(B)
HD 2.30G(B)
Sennheiser Headphones Headset On Ear HD 2.30G(B)
HD 2.30G(B)
Sennheiser Headphones Headset On Ear HD 2.30G(W)
HD 2.30G(W)
---
HD 2.30G Black
The HD 2.30 is a compact, extremely lightweight pair of headphones that makes it easy to get the most out of portable devices.
The Sennheiser HD 2 Series – supreme musicality to go
Legendary Sennheiser quality never looked crisper. The new HD 2 series achieves the feat of being elegantly minimalist in design, yet tough enough for a life in motion. With a sound that lets your mobile device, i. e. your music, shine wherever you are.
Plug them in and get the most out of your portable device.
Sennheiser HD 2.30
The premium mobile experience: Great Sennheiser sound, complete control over your music and phone calls. Tough enough for the street, yet extremely comfortable to wear.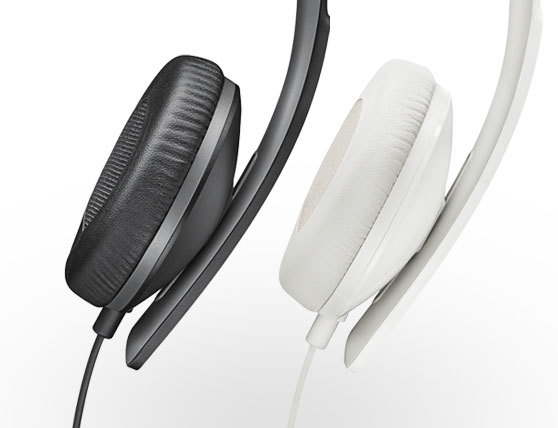 In the company of mobile luxury
With the HD 2.30 we went for the all-in package. This means, you get much more then a pair of elegantly designed, lightweight yet robust, foldable headphones. For freedom of movement the HD 2.30 features a detachable single-sided cable, which has a 3-button inline remote plus microphone. Optimized for either Apple iOS (HD 2.30i) or Android devices (HD 2.30G), this remote lets you control your music, and make and take calls. For convenient storage of the HD 2.30, a soft pouch is included with delivery.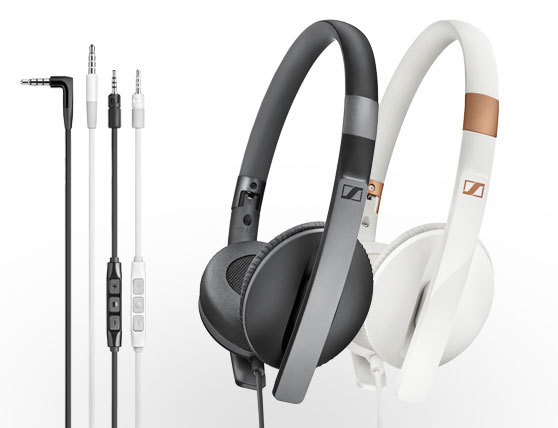 Power and clarity – the sound to hit the street with
A true Sennheiser, the HD 2.30 is uncompromising when it comes to sound. Lifelike and balanced, it delivers an impressively clear and detailed sound reproduction with a powerful and exceptional extended bass response. Immerse in this sound experience while you enjoy the comfort of the premium leatherette earpads.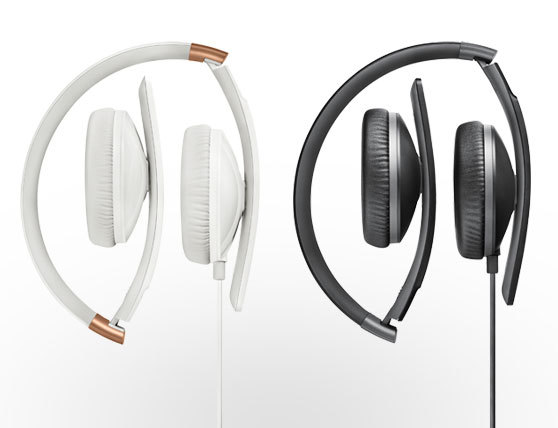 Choose your style statement
Classic black with anthracite elements or white with rose gold accents? As long as you choose the HD 2.30 you cannot go wrong. Its elegant and sophisticated design makes for a timeless look, which, like the sound of these outstanding headphones, stands out for its pureness.
Technical Data
Device
Samsung Galaxy™ , LG™ , HTC™ , Sony™ , Other devices
Color
black
Transducer principle (headphones)
Closed
Microphone sensitivity
-44dBV/Pa
Pick-up pattern
Omni directional
Weight
262 g
Cable length
1.4m
Jack plug
3.5mm straight plug
Ear coupling
On ear
THD, total harmonic distortion
<0.5% (1kHz/100dB)
Sound pressure level (SPL)
115dB (1kHz/1Vrms)
Frequency response
18 - 22,000Hz
Frequency response (Microphone)
100 - 10,000 Hz
Impedance
22 Ω
Wearing style
Headband
FM Audio Video balances product selection and depth with accessibility and a customer service staff that can demystify your home stereo, car audio or home theatre purchase. We have years of combined consumer electronics experience and our wealth of knowledge and understanding is the asset that helps us shine in a ocean of complacency and misinformation.
Expert
Custom Installation
We offer the finest custom installations along with expertise and personal service.
Expert
Custom Installation
We offer the finest custom installations along with expertise and personal service.
Authorized Dealer
Car Audio
FM Audio Video has been satisfying the Car Audio & Multimedia needs in Brantford and surrounding areas.
5 Pounds of Coffee
Price Match Guarantee
We will give you 5 pounds of coffee if we don't beat your best offer.
We have a large collection of exceptional brands
---