PSB Speakers Slim Profile Premium On-Wall Speaker In Satin Black - PWM1 BLK
PSB Speakers Slim Profile Premium On-Wall Speaker In Satin Black - PWM1 BLK
PWM1 BLK
PSB Speakers Slim Profile Premium On-Wall Speaker In Satin Black - PWM1 BLK
PWM1 BLK
$1099.00
PSB Speakers Slim Profile Premium On-Wall Speaker In Satin White - PWM1 WHT
PWM1 WHT
$1099.00
---
Ultra-slim, single-channel flat-panel speaker
The PWM1 offers an outstanding performance for its modest size. It can reproduce the most demanding musical passages or cinematic scenes with a level of detail typically found in larger speakers. Its simple 2-way design, consisting of a 1" titanium tweeter and dual 4" carbon fibre drivers are coupled with a unique ported cabinet to create an extremely efficient speaker requiring little amplification power.
PWM1 is an on-wall speaker that can be mounted vertically or horizontally (mount included)
Can be used for left, center, or right channel or as a surround speaker
Available in Satin White or Satin Black
Designed and voiced by the growing PSB design team mentored by PSB founder and speaker industry icon, Paul Barton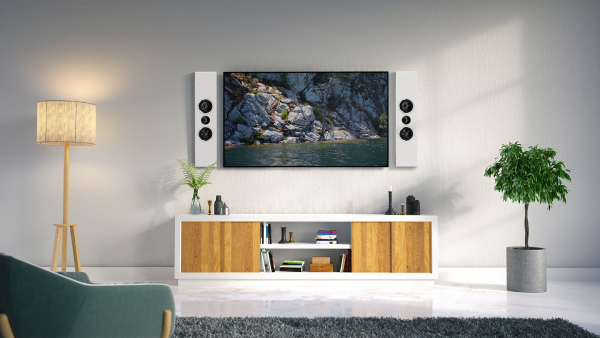 Today's home audio applications demand solutions that traditional designs are simply not able to fulfill. Regardless of the installation, PSB believes that the sound should never be compromised. PWM Series melds refined, elegant looks, versatile application and unwavering performance.
The slim profile hugs the wall and maintain a minimal visual presence. Their clean and simple lines complement virtually any design aesthetic. Interior designers, architects, custom home builders and system integrators will appreciate the understated elegance and highest performance levels offered by the Performance Wall Mount Series.
Newly developed drivers employing four-layer voice coils with powerful magnets and carbon fiber cones for exceptional detail, low distortion and superior power handling. The new proprietary 1" titanium dome tweeter is ferrofluid cooled and features a Neodymium magnet for high sensitivity and power handling. A wave guide on the front of the tweeter helps match the response of the tweeter near the crossover point with the woofer for a seamless transition.
Whether as part of a complete on-wall system, a basic TV application or as an on-wall center channel solution for floor standing speakers; PWM series deliver legendary PSB sonic performance coupled with aesthetics and install cues desired in today's interior design.
Key Features of the PSB PWM1 On-Wall Speaker:
Slim Profile premium On-Wall speaker system
2 x 4" woofers with carbon fiber cones, rubber surrounds
1" Titanium Dome Tweeter
Vertical or horizontal mounting options
Wall mount bracket included
LCR or for surround speaker application
Design and final voicing engineered by Paul Barton
Available in Satin White or Satin Black
Sensitivity
Anechoic Chamber
85dB
Typical Listening Room
87dB
Frequency Response
On Axis +/- 3db
70Hz-23kHz
LF Cutoff
50Hz
Impedance
Normal
8 Ohms
Minimum
6 Ohms
Recommended Amplifier Power
Tweeter (Nominal)
1″ (25mm), Titanium Dome with Ferrofluid
Woofer (Nominal)
2x 4″ (100mm), Carbon Fibre Cone Rubber Surround, Cast Basket
Design Type
Bass Reflex
CONSTRUCTION
Cabinet
MDF
Grille Face
Acoustic Transparent Cloth
Frame
MDF
Size (W x H x D)
Net H
28" (711mm)
Net W
6.5" (165mm)
Net D
3.38" (85mm)
Shipping Information
Shipping H
11.38" (288mm)
Shipping W
32" (864mm)
Shipping D
9" (228mm)
Volume
2.02 cu ft (0.06㎥)
Weight (LB)
Net – 14 lbs (6.4 kg), Shipping – 20.1 lbs (9.1 kg)
Finish
Available Finishes
Satin Black, Satin White
Grille Type
Magnetic, Cloth Grille
Mount
Wall Bracket
Wall Mount included for Vertical and Horizontal Mounting Note: Bracket is not designed as ceiling mount
FM Audio Video balances product selection and depth with accessibility and a customer service staff that can demystify your home stereo, car audio or home theatre purchase. We have years of combined consumer electronics experience and our wealth of knowledge and understanding is the asset that helps us shine in a ocean of complacency and misinformation.
Expert
Custom Installation
We offer the finest custom installations along with expertise and personal service.
Expert
Custom Installation
We offer the finest custom installations along with expertise and personal service.
Authorized Dealer
Car Audio
FM Audio Video has been satisfying the Car Audio & Multimedia needs in Brantford and surrounding areas.
5 Pounds of Coffee
Price Match Guarantee
We will give you 5 pounds of coffee if we don't beat your best offer.
We have a large collection of exceptional brands
---