Bowers & Wilkins Fully active 2.0 multimedia speaker system MM 1
MM-1 Bowers & Wilkins computer speakers
MM-1
MM-1s aren't like other computer speakers. They're true hi-fi speakers, shrunk to fit on your desktop. So they don't just look great – they sound amazing, transforming your computer into a superb hi-fi stereo sound system.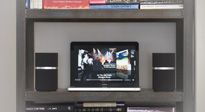 Full-range sound
MM-1s have distinct bass/midrange and treble drivers. That's why they can deliver the accuracy of a true hi-fi speaker.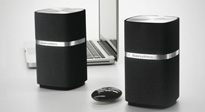 Near-field precision
MM-1s are designed to deliver the best sound just where you are – a few feet from the computer screen.
High-end technology
MM-1s may be compact, but they still use the tube-loading technology we first developed for our famous Nautilus speakers.
Specifications
Technical features
2-way speaker, Fully active, Nautilus tube tweeters, Digital amplifier, Digital Signal Processing (DSP), Switch mode power supply, USB streaming from PC/Mac, Remote control
Description
Fully active 2.0 Multimedia speaker system
Drive units
2x f75mm (3.0 in) woofers, 2x f25mm (1.0 in) tweeter
Frequency range
38Hz and 22kHz
Amplifier power output
4x18W
Power input voltage
100V - 240V ac 50/60Hz on external power supply, 16V DC on product
Rated power consumption
12W (primary consumption)
Standby power consumption
<0.8W
Inputs
3.5mm mini jack analogue, Mini USB B 2.0 for PC connection: Streaming & software upgrades
Outputs
3.5mm mini jack Headphone output
Height
170mm free standing
Width
100mm
Depth
100mm free standing
Net weight
0.85kg per speaker
Finish
Enclosure: ABS with spun aluminium top plate Grilles: Black cloth