Bowers & Wilkins CT Series passive subwoofer - CT8 SW
Bowers & Wilkins This passive subwoofer is designed to be used with the CT8 LR front channel speaker.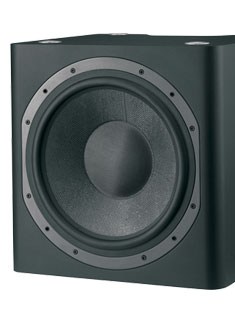 Used with each CT8 LR, this passive subwoofer is designed to extend the front channel speaker's bandwidth down to 13Hz, perfectly reproducing low frequency signals without compromising dynamics and imaging. Closed box loading, a 15" Rohacell ® driver and a 70-litre MatrixTM-braced enclosure mean home theatre bass will never be quite the same.
Specifications
Description:
Closed-box subwoofer
Frequency Range:
-6dB at 13Hz and 750Hz, -3dB at 18Hz and 500Hz
Frequency Response:
18Hz – 35Hz ±3dB, on reference axis
Drive Units:
1x ø380mm (15 in), carbon fibre/rigid foam, sandwich cone bass
Sensitivity:
93dB spl (2.83V, 1m)
Dispersion:
Within 2dB of reference response, Horizontal: over 60º arc, Vertical: over 10º arc
Dimensions:
H 475mm W 475mm D 475mm, H 18.7" W 18.7" D 18.7"
Weight:
35kg (177 lb)