Audio Technica Fully Automatic Wireless Belt-Drive Turntable - AT-LP60XBT-BK
Audio Technica Fully Automatic Wireless Belt-Drive Turntable - AT-LP60XBT-BK
AT-LP60XBT-BK
Audio Technica Fully Automatic Wireless Belt-Drive Turntable in Red - AT-LP60XBT-RD
AT-LP60XBT-RD
Audio Technica Fully Automatic Wireless Belt-Drive Turntable - AT-LP60XBT-WH
AT-LP60XBT-WH
$249.00
Audio Technica Fully Automatic Wireless Belt-Drive Turntable - AT-LP60XBT-BK
AT-LP60XBT-BK
$249.00
---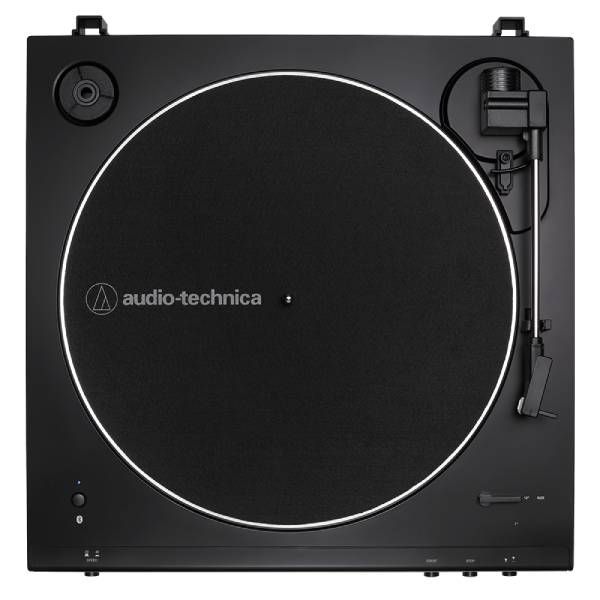 The AT-LP60XBT gives you all the great features of the redesigned AT-LP60X fully automatic belt-drive stereo turntable with the added convenience of Bluetooth® wireless connectivity. The turntable pairs with speakers, headphones or other wireless devices. With its CSR BT chipset, the turntable is even able to connect to devices that support the aptX codec, which offers much-improved sound quality over the standard SBC code
Of course, the AT-LP60XBT can also be operated just like a regular turntable with a traditional wired connection. Either way – wired or wireless – you get outstanding audio with the ease of automatic operation controlled by front-panel start, stop and tonearm lift buttons.
Audio-Technica has been a leader in phono cartridge design for more than 50 years, and that expertise shows in the AT-LP60XBT's Dual Magnet™ cartridge with replaceable stylus. The cartridge is integrated into the headshell for assured performance and ease of setup.
The AT-LP60XBT plays both 33-1/3 and 45 RPM records and comes with a 45 RPM adapter, a detachable dual RCA output cable (for wired connection) and a removable hinged dust cover. The turntable is available in black (AT-LP60XBT-BK), white/black (AT-LP60XBT-WH), and red/black (AT-LP60XBT-RD).
Wireless Connectivity
Cut the Cord, Keep the Vinyl
This stylish upgrade of our popular wireless turntable lets you enjoy the warm, analog sound of vinyl through a convenient Bluetooth® wireless connection.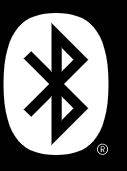 Bluetooth® Technology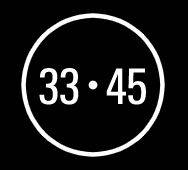 Plays 33-1/3 and 45 RPM Records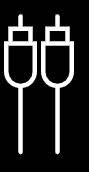 Wired Connection Available with RCA Output Cable (included)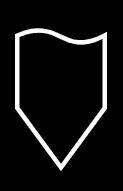 Replaceable Stylus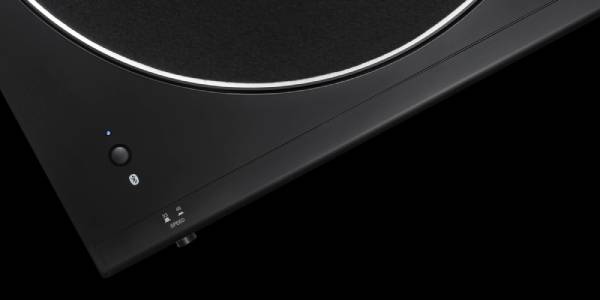 Multiple Connectivity Option
Connect to Wireless Speakers and Headphones
The LP60XBT can connect to devices with Bluetooth® technology that support the high-quality Qualcomm® aptX™ audio codec, giving you exceptional sound from the wireless connection.
Features
High-fidelity audio with Bluetooth wireless technology
Connects wirelessly to speakers and other devices equipped with Bluetooth wireless technology or to wired audio systems and powered speakers via included dual RCA output cable
Compatible with aptX codec
Fully automatic operation with two speeds: 33-1/3 and 45 RPM
Anti-resonance, die-cast aluminum platter
Redesigned tonearm base and headshell for improved tracking and reduced resonance
Integral Dual Moving Magnet™ phono cartridge with replaceable diamond stylus (ATN3600L)
AC adapter handles AC/DC conversion outside of the chassis, reducing noise in the signal chain
Built-in switchable phono pre-amplifier for phono- or line-level output
Includes: detachable RCA output cable (3.5 mm male to dual RCA male), 45 RPM adapter, and removable hinged dust cover
Available in black (AT-LP60XBT-BK), white/black (AT-LP60XBT-WH), and red/black (AT-LP60XBT-RD)
Specifications
Type
Belt drive turntable, fully automatic
Motor
DC servo-controlled
Drive Method
Belt-drive
Speeds
33-1/3 RPM, 45 RPM
Turntable Platter
Aluminum
Wow and Flutter
Less than 0.25% (WTD) @ 3 kHz
Signal-to-Noise Ratio
>50 dB (DIN-B)
Output Level
Pre-amp "PHONO": 2.5 mV nominal at 1 kHz, 5 cm/sec , Pre-amp "LINE" 150 mV nominal at 1 kHz, 5 cm/sec
Phono Pre-Amp Gain
36 dB nominal, RIAA equalized
Power Supply Requirements
100 to 240V, 50/60 Hz,0.6 A Max.
Dimensions
359.5 mm (14.15") W x 97.5 mm (3.84") H x 373.3 mm (14.70") D
Weight
2.6 kg (5.73 lbs.)
Accessories Included
Dust cover, felt mat, platter (with drive belt), 45 RPM adapter, RCA audio cable (approx. 1.2 m (3.9')), AC adapter (approx. 1.5 m (4.9'))
Notes
AC adapter: 12 V, 2 A , Replacement Stylus: ATN3600L , Communication System: Bluetooth Version 5.0 , Maximum Communication Range: Line of sight - approx. 10 m (33') , Compatible Bluetooth Profile: A2DP , Support Codec: SBC, Qualcomm aptX
FM Audio Video balances product selection and depth with accessibility and a customer service staff that can demystify your home stereo, car audio or home theatre purchase. We have years of combined consumer electronics experience and our wealth of knowledge and understanding is the asset that helps us shine in a ocean of complacency and misinformation.
Expert
Custom Installation
We offer the finest custom installations along with expertise and personal service.
Expert
Custom Installation
We offer the finest custom installations along with expertise and personal service.
Authorized Dealer
Car Audio
FM Audio Video has been satisfying the Car Audio & Multimedia needs in Brantford and surrounding areas.
5 Pounds of Coffee
Price Match Guarantee
We will give you 5 pounds of coffee if we don't beat your best offer.
We have a large collection of exceptional brands
---