URC Wand-Style Color Touchscreen Wi-Fi Handheld Remote TRC-1280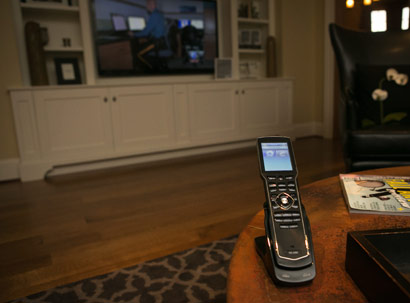 The Total Control System's TRC-1280 features a brilliant, large 2.8-inch color LCD screen that provides elegant control of your home. This beauty comes to life when you pick it up and responds when you touch an icon on the screen with your fingertip. It integrates with your whole-house system and provides instant access to entertainment, security, climate and more! The TRC-1280 also features intuitively placed hard buttons to control all options quickly and conveniently as needed.
This remote can be custom programmed with your favorite functions and graphics and requires a Total Control Advanced Network Controller in the system. The TRC-1280 includes a rechargeable Lithium Ion battery and charger base. When not in use, the TRC-1280 sits in its base to assure that it's always fully-powered and ready for action and that you'll always know where to find it. Both remote and charger are designed to match any decor.
Specification
Microprocessor:
533MHz ARM9
RAM:
128Mbyte Mobile DDR
NAND:
128Mbyte
LCD:
2.8 Inch Screen (240 by 320) LCD Backlighting by LED
Sound:
Mono 1 watt
Devices:
Supports up to 255 Devices with text, less with heavy graphics usage
Pages:
Supports up to 255 Pages on each Device with text, less with heavy graphics usage
Macro Capability:
Up to 255 steps each, however nesting is allowed
Wi-Fi:
IEEE 802.11B(11Mbps), G(54Mbps)
Battery:
Lithium polymer, 2400mAh
Battery Charging Time:
5 Hours
Dimensions:
8.8" Height x 2.3" Wide x 0.9" Thick
Battery Warranty:
1 Year
Weight (without AC Adapter):
7.8 oz