URC Streaming Network Player SNP-2
SNP-2 Streaming Network Player
Stream all your favorite music around the house and control it with one easy-to-use menu
The SNP-2 streaming network player merges all your music sources into one simple solution with a graphical menu so you can pick and control your tunes from anywhere. The new SNP-2 provides instant access to streaming music services such as SiriusXM® and Pandora®, Napster®, vTuner and and thousands of other internet radio stations – plus your own music collection that's stored on an attached NAS drive, PC, and/or Apple® computer. And Windows Media, iTunes® files and Playlists are all supported.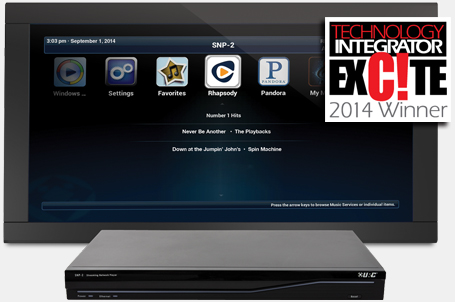 Enjoy your favorites you way with one touch on a URC remote, keypad, touch screen or even your own smartphone or tablet. Multiple SNP-2s can be used in your home so everyone in the family can get what they want at any time and anywhere. For example, Mom can listen to her favorite Pandora station on the patio while the kids are rocking their room listening to Napster – at the same time.
Search for favorite tracks from thousands of songs so easily using our graphical on-screen TV interface. Create playlists for access by your own customized names, and much more.
The SNP-2 installs best with URC's DMS-1200 or DMS-100 amplifiers since they incorporate our superior media streaming capabilities. Flawless CD quality streams can be routed to various locations in one whole-house system. And, because the SNP-2 also features one digital audio output and a set of analog outputs, it can be used as a standalone music source with other brand systems. Have your music your way with our SNP-2 and Total Control.
SiriusXM® and Pandora® Internet Radio, Napster®, vTuner® Internet Radio, and other services onboard (enrollment and/or subscriptions may be required)
Access your own music collection that's stored on an attached NAS drive, PC, and/or apple computer
Windows Media, iTunes® files and Playlists supported
Streaming output via 44kHz streams music to Total Control DMS-Series Amplifiers
Analog outputs for compatibility with other brand systems
Compatible with Total Control remotes, keypads, touchscreens and with smartphones and tablets via URC MRX Advanced Network System Controller
For an optimal installer setup and user experience, the following interfaces are recommended with the SNP-2: TRC-1080, TRC-1280, TKP-2000, TKP-7000, and URC Mobile (mobile app)
On-screen Graphical User Interface (GUI) provides music information and control menus
Outputs 24-bit 192 KHz FLAC files natively from the Analog and Digital outputs. Automatic down-conversion for DMS streaming
Easy rack-mounting
Specifications
HDMI:
1.4A
IR:
One 3.5mm IR input jack (for one-way use with RF base stations)
Coaxial:
One SPDIF (coax) out
Audio Output:
HDMI, Coaxial (SPDIF) or Analog (L/R)
Network:
One 10/100 RJ45 port (indicator 2 LED)
Power:
12V/1A (Do not use 48V for MFSPOE-8)
Size:
17" (W) x 1.7" (H) x 8.7" (D)
Weight:
4.1 lbs.
Warranty:
Two year USA Limited Warranty