URC Streaming Network Player SNP-1
Streaming Network Player
The ultimate personal music gateway; hear your music, your way!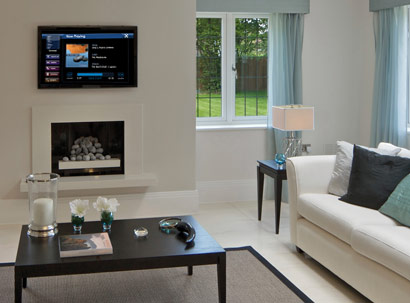 The SNP-1 streaming network player merges all your music sources into one simple interface. Gain instant access to many streaming music services like Pandora, Napster, Sirius/XM and thousands of internet radio stations. Search for your favorite tracks while monitoring your playlists on your video display, all through a colorful graphic user interface.
The SNP-1 installs best with DMS-1200 or DMS-100 amplifiers since they incorporate Universal Remote Controls superior media streaming capabilities. Flawless CD quality streams can be routed to various locations in one whole-house system leaving configuration options very open. Mom can stream Pandora in the kitchen from her iPod thats docked in the basement while dad can send traffic reports to the shower before the morning commute via streaming internet radio, all at the same time.
And since you can stream multiple music sources simultaneously and independent of each other, your installer will usually outfit each member of the house with their own SNP-1. The experience is enhanced when each user can access their own personalized music source at any given time.
The SNP-1 also features one digital audio output and a set of analog outputs so it can be sold as a standalone music source with other brand systems. Your personalized music experience awaits, have your music any way you want it with the SNP-1.
Streaming output via 44kHz streams to Total Control amplifiers
Pandora, Napster, Sirius/XM, internet radio and other services onboard
Plays all music on network PCs, Macs or network hard drives
Analog outputs for compatibility with other brand systems
Full 2-Way communication on all Total Control remotes via MRX-10 network system controller
IR input extends compatibility to any URC remote or base station
On screen GUI provides metadata and control environment
Can be programmed off premises via the internet and MRX-10
Easy rack-mounting
Specifications
Mood Lamp (White):
4 Station Dimming (Off . Min . Mid . Max)
Power LED (Blue):
Power Status
Network LED (Blue):
Network Status
Reset Button:
System Reset
Power:
12V/3.5A (Do Not USE 48V for MFSPOE-8)
Ethernet:
One 10/100 RJ45 port (Indicator 2 LED)
Control:
One IR Emitter Input (For RF 1way System)
Coaxial:
One SPDIF(Coaxial) Out
Audio:
One Audio Line Out
Component:
One Component Video Out