85" Sony XR85X90K Bravia XR Full Array LED 4K Ultra HD High Dynamic Range Smart TV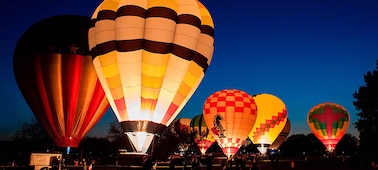 4K Full Array LED
Whatever you're watching, you'll see it upscaled close to 4K quality thanks to our unique Cognitive Processor XR™. Our Full Array LED, expertly controlled by our unique technology, controls the backlight in zones to reproduce realistic contrast in bright and dark areas simultaneously. You'll enjoy pictures enhanced with real-life depth and contrast.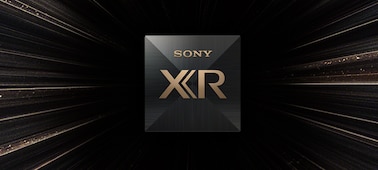 Cognitive Processor XR™
Take vision and sound to the next level with Cognitive Processor XR™. Our revolutionary processor on Sony BRAVIA XR™ TVs reproduces content the way humans see and hear for an incredibly life-like experience. Images are cross-analyzed and cleaned, especially around the focal point, to give real-life depth, extraordinary contrast and beautifully vivid colours.
XR Triluminos Pro
Powered by Cognitive Processor XR™, our Full Array LED panel with unique new LED structure and XR Triluminos Pro enables X90K to access over a billion colours and reproduce each one with the subtle differences seen in the real world. It can detect colour from saturation, hue and brightness to deliver natural shades in every detail, especially in greens and reds.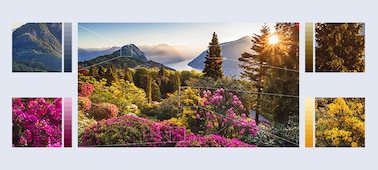 XR HDR Remaster
With XR HDR Remaster, this TV can detect each object on screen, analyze its colour and adjust contrast for even more realistic pictures. Object-based processing, powered by BRAVIA XR, takes precision to a whole new level by adding adjustment of hue, saturation, brightness, motion vector, bandwidth and more. The result is exceptionally real scenes with greater depth, lifelike textures and natural colours.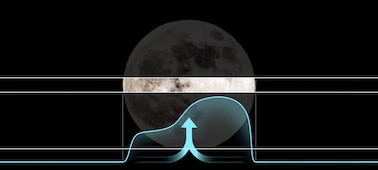 XR Contrast Booster 10
By precisely balancing light output across the screen, dimming some areas and boosting others, XR Contrast Booster adjusts brightness for higher peaks in glare and deeper blacks in shadow. As bright areas are brighter and dark areas darker, scenes look more real with extra depth and detail.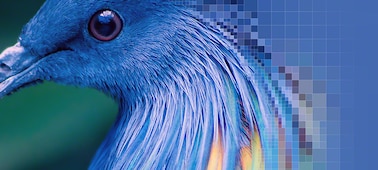 XR 4K Upscaling
With XR 4K Upscaling, you'll enjoy entertainment close to 4K quality, whatever the content or source. Our Cognitive Processor XR™ accesses a vast amount of data, intelligently recreating lost textures and detail for real-world pictures.
4K XR Super Resolution
XR Super Resolution detects individual objects in a picture and reproduces virtually real-world textures on screen. Our BRAVIA XR processor precisely analyzes and processes data to power 4K pictures with four times the resolution of Full HD to enrich scenes with real-world detail and texture.
4K XR Smoothing
XR Smoothing creates smooth, natural 4K pictures as you watch, without the "banding" that can occur on other TVs. Scenes are reproduced with thousands of tones, shades and gradations, making them look incredibly real.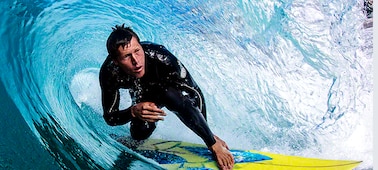 XR Motion Clarity
Watching sports and fast-moving movies just got a whole lot better. Our Cognitive Processor XR™ with XR Motion Clarity™ analyzes motion across several frames to ensure action stays smooth, bright and clear.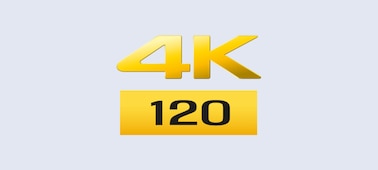 4K/120fps
Get the edge on the competition with BRAVIA. With HDMI 2.1, you can get an up-to-120fps framerate on compatible games, so you'll have the advantage in shooting, sports and high-performance games with near instant on-screen action. You'll also enjoy ultra-smooth gaming with reduced input lag of 8.5 ms with 4K/120fps and dedicated Game Mode.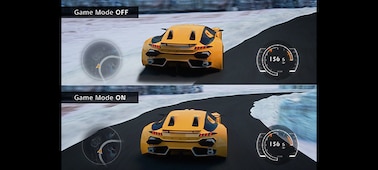 Auto Low Latency Mode
With Auto Low Latency Mode in HDMI 2.1, BRAVIA recognizes when a console is connected and powered on, and automatically switches to low latency mode. You'll enjoy smoother, more responsive gameplay—vital for fast-moving, high-intensity games.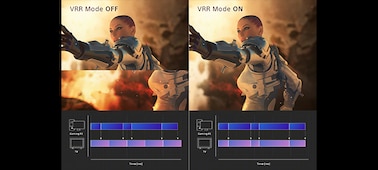 Variable Refresh Rate
With a Variable Refresh Rate in HDMI 2.1, BRAVIA avoids stuttering delays and screen tearing. This TV dynamically adjusts the display refresh rate to match the variable frame rates of the gaming device for smoother gameplay.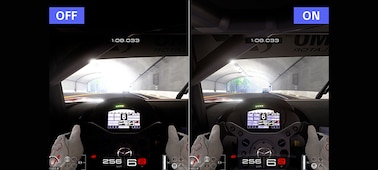 Auto HDR Tone Mapping
With Auto HDR Tone Mapping the HDR settings will be optimized instantly during your PS5™ console's initial setup. Your PS5™ automatically recognizes individual BRAVIA TV models and selects the best HDR setting for your TV accordingly. So even in high-contrast scenes, you'll see the crucial details and colours in the brightest and darkest parts of the screen.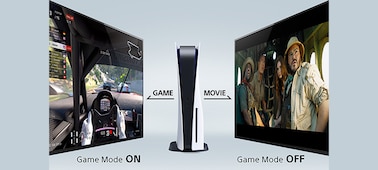 Auto Genre Picture Mode
BRAVIA automatically switches into Game mode to minimize input lag and make the action more responsive. When watching movies on PlayStation5® consoles, it switches back to Standard Mode to focus on picture processing for more expressive scenes.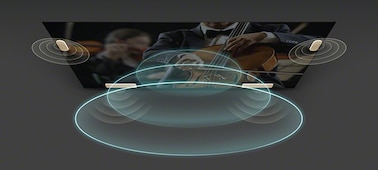 Acoustic Multi-Audio™
Our Acoustic Multi-Audio™ technology includes sound-positioning tweeters to ensure high-frequency sounds come from the right place in the scene, precisely matching what's on screen. With X-Balanced speakers, you'll hear clear, high-quality sound.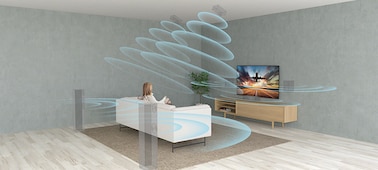 3D Surround Upscaling
With BRAVIA XR™, everything you watch gets the true surround-sound treatment. XR Surround creates surround sound from the sides and vertically so you can experience 3D audio without the need for in-ceiling or up-firing speakers. Our BRAVIA XR™ TVs are also compatible with Dolby Atmos®.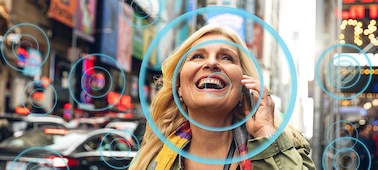 Voice Zoom 2
Hear TV dialogue more clearly without turning up the volume. Even if speech is difficult to hear, Voice Zoom 2 detects the type of voice, analyzes it and enhances its clarity.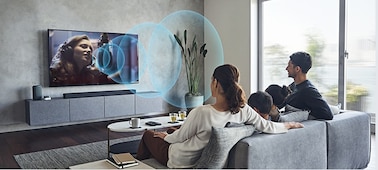 Acoustic Centre Sync
When you connect a BRAVIA XR TV to a Sony soundbar, the soundbar reinforces the centre speaker channel for clearer and fuller vocals. This enables sound to precisely match on-screen action for a truly immersive experience.
Ready for 360 Spatial Sound
Tailor your Dolby Atmos® experience by combining our SRS-NS7 wearable speaker with BRAVIA XR™ for spatial surround sound. With selected Sony headphones, you can also enjoy the simulated surround of 360 Spatial Sound using Wireless Transmitter WLA-NS7 (sold separately).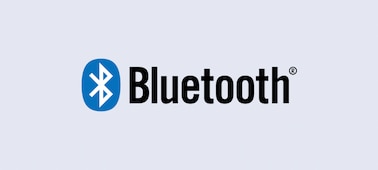 Bluetooth connectivity
Connect Bluetooth®-compatible devices to your TV for easy wire-free entertainment. Pair your Bluetooth headphones or earphones with BRAVIA and enjoy TV shows and music in your favourite place—without any disturbances or interruptions.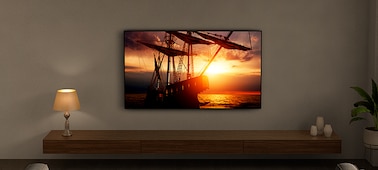 Ambient Optimization
Sit back and enjoy an enthralling viewing experience. Our unique ambient optimization technology with light sensor automatically adjusts picture and sound to your environment.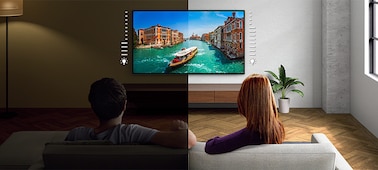 Light Sensor
On conventional TVs, brightness stays the same regardless of light in a room, resulting in pictures that are too dark or bright. This TV includes a light sensor that optimizes picture brightness to room conditions, boosting brightness in light rooms and reducing it in dark ones so you get the perfect view.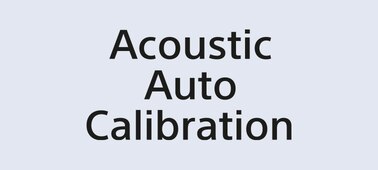 Acoustic Auto Calibration
No matter where you're sitting, this TV detects your position and optimizes sound so you'll enjoy the same sound quality as if you were sitting right in front of the TV. Sound can change depending on your room environment. Curtains, for example, absorb sound while objects in front of the TV can disturb the passage of sound, compromising the quality of what you hear. This TV detects objects and reproduces sound that's enhanced and optimized to your room.
Works with BRAVIA CAM
Connect your BRAVIA XR TV with BRAVIA CAM, sold separately, for an even more immersive viewing experience. BRAVIA CAM recognizes where you are in the room and how far you are from the TV, then adjusts sound and picture settings so they're just right. You can also enjoy an array of fun new TV experiences with BRAVIA CAM including gesture controls, video chat and many more.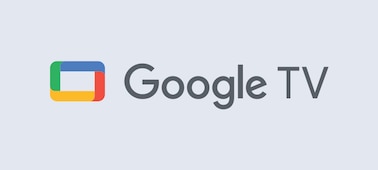 Google TV
Browse 700,000+ movies and TV episodes from across your streaming services, all in one place and organized into topics and genres based on what interests you.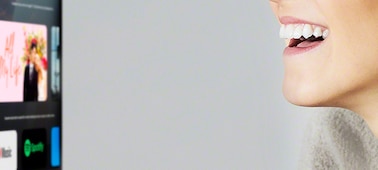 Hands-free Voice Search
Find your favourite content faster than ever using the power of your voice, no remote required. With Voice Search, there's no more complicated navigation or tiresome typing—you just have to ask.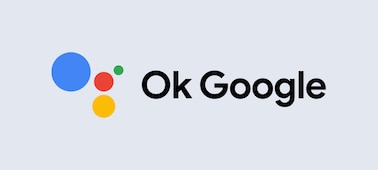 Google Assistant
Your TV is more helpful than ever. Use your voice to find movies, stream apps, play music and control the TV. Ask Google to find a specific title, search by genre, or get personalized recommendations by saying, "what should I watch?" Even get answers like sports scores, control smart-home devices, and more. Talk to Google to get started.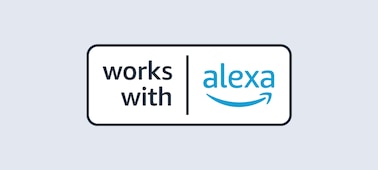 Works with Alexa
Connect your Alexa-enabled devices for seamless hands-free control of a Sony TV. With Alexa, you can power up your TV, change channels, control volume and more.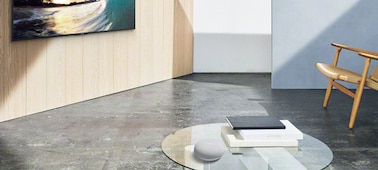 Works with Ok Google
Watch your favourite movies and shows without hunting down the remote. Now you can just use your voice to control your Sony TV through a Google Assistant-enabled device. Just say "OK Google" to get started.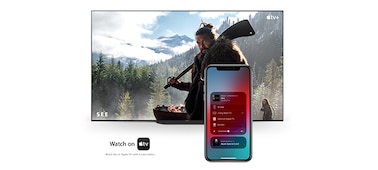 Works with Apple AirPlay/Apple HomeKit
With Apple AirPlay, you can stream video and audio to your television right from your iPhone, iPad or Mac. Watch movies and shows from the Apple TV app, your favourite apps or even Safari. Share your photos with everyone in the room.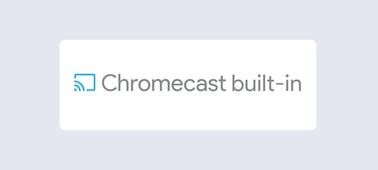 Chromecast built-in
Go from your phone, tablet or laptop to your TV in an instant. With Chromecast built-in, you can cast all your favourite movies, shows, apps, games and more directly to your TV.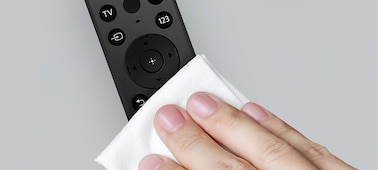 Easy to wipe
Designed with a flush surface featuring lower buttons and a special polyurethane coating, our remote is easy to wipe and keep clean.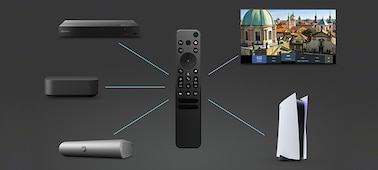 Smart remote
All your connected devices can be controlled with our smart remote. One-button-access to video-on-demand services brings shows and movies into your room in seconds.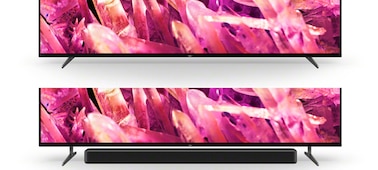 Two-way multi-position stand
A versatile two-way stand gives you the choice of a standard setting that focuses you on the picture or soundbar setting for ideal positioning of your sound system.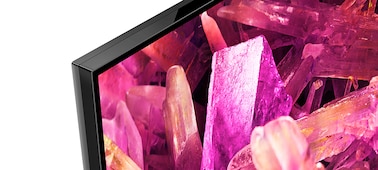 Flush Surface
As the bezel is extremely narrow, your eyes naturally focus on the picture, not what's around it.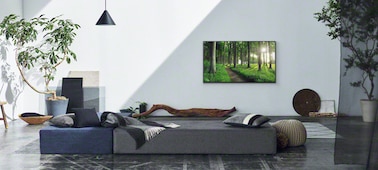 Living Decor
Our Living Decor turns your TV into an essential part of your living space with on-screen artwork, personal photos, screensaver themes and clock functions.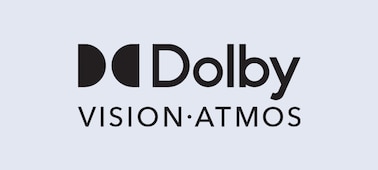 Dolby Vision® and Dolby Atmos®
Enjoy cinematic thrills at home. Dolby Vision® brings scenes vividly to life for authentic viewing, while Dolby Atmos® fills the room with immersive surround sound.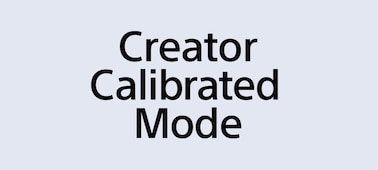 Creator Calibrated Mode
Creator Calibrated Mode on BRAVIA XR TVs can optimize picture settings when you watch content on Netflix and BRAVIA CORE. Netflix Adaptive Calibrated Mode further optimizes your Netflix experience according to the lighting conditions of your room, allowing you to enjoy Netflix content in spectacular studio quality, just as the creator intended.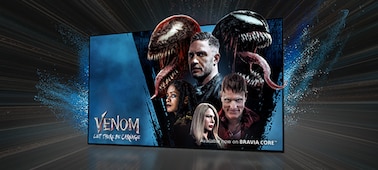 BRAVIA CORE
A huge number of movies are included and waiting for you. With BRAVIA XR technology, Pure Stream™ and IMAX® Enhanced, everything you watch is delivered with stunning visuals and expressive sound quality. With BRAVIA CORE calibrated mode, you can watch in the picture settings that the filmmakers intended for their film at home.