Sannheiser Wireless PXC 550
Sannheiser Wireless PXC 550
PXC 550
Availability
Schedule Delivery
---
The Sennheiser PXC 550 Wireless turns every journey into a first-class experience. Enjoy Sennheiser's trademark high-quality sound and NoiseGard™ hybrid adaptive noise cancellation, all packed into a sleek foldable design. Control your sound using the ear cup-mounted touch control panel, and an intuitive voice prompt system. With up to 30 hours of battery life, the PXC 550 Wireless lets you travel around the world in comfort on a single charge.
TRANSFORM YOUR JOURNEY UPGRADE TO FIRST CLASS.
Sennheiser's new headphones are designed specifically for the frequent traveler.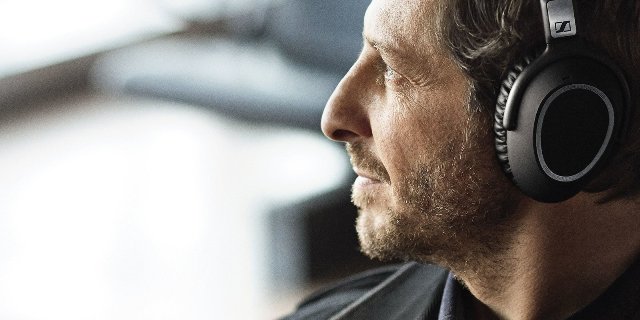 Escape into your own world of music
The world can be a noisy place. The PXC 550 Wireless allows you to shut the door on it. Create intimate space in the most chaotic of environments with Sennheiser's NoiseGard™ Hybrid adaptive noise cancelling technology. The louder the noise around you, the harder the technology works, and the more satisfying the sound. The PXC 550 Wireless boasts extraordinary battery life of up to 30 hours* of continuous use. So now you can span the globe on a single charge, without leaving your own private world.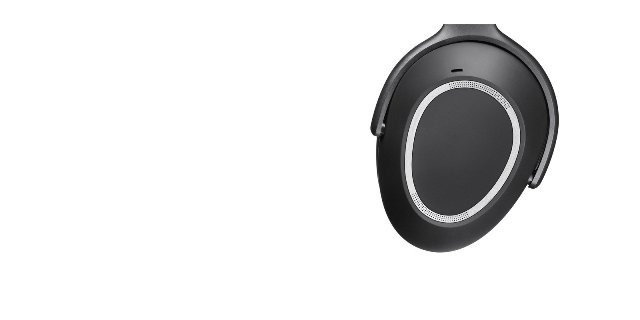 Freedom of movement
You can't beat the freedom of travel and music. The PXC 550 Wireless combines both in a luxury headphone designed for any journey. Imagine a world without cables. Instead, connect to your device with Near Field Communication (NFC) enabled pairing, the latest in high-tech transmission. And the ground-breaking noise cancellation works without or without the wire.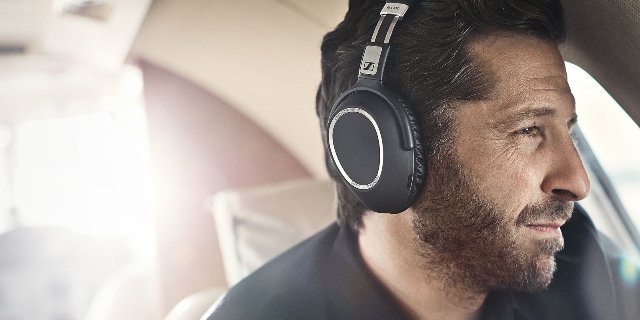 Take control of your communications
It's time to make yourself heard. With unrivaled speech clarity for personal and business calls, the PXC 550 Wireless identifies and filters out unwanted ambient noise, making sure you're perfectly understood—no matter how loud your environment. Just use the touch sensitive trackpads on the earcups to make and receive calls.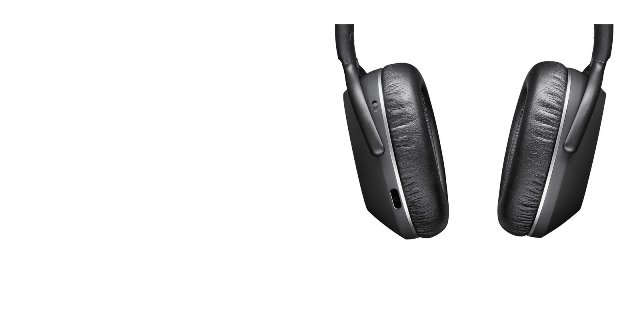 Feel the comfort
Introducing one of the world's most lightweight headsets. The PXC 550 Wireless is designed for long listening sessions, and for people on the move. To guarantee the best fit possible, Sennheiser studied the human ear, and conducted extensive tests to engineer the headset to the perfect size. The result was specially designed earpads and an ergonomic headband. The headset also discreetly folds away into a stylish, compact travel case with a fold-flat collapsible frame. Now, superior comfort and class-leading design is yours.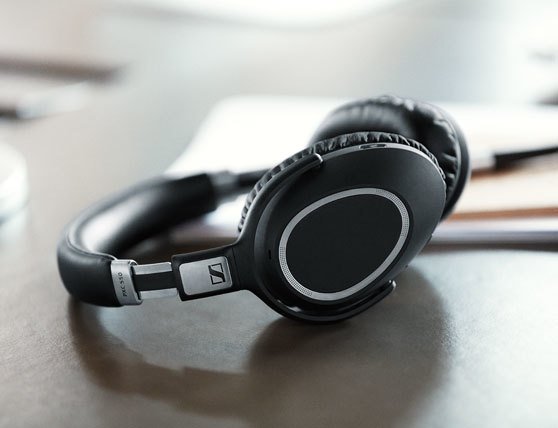 Touch sensitive trackpad
Integrated into the earcups they give you complete control on the move, from volume control to skipping a track to taking a call – all with the swipe of a finger.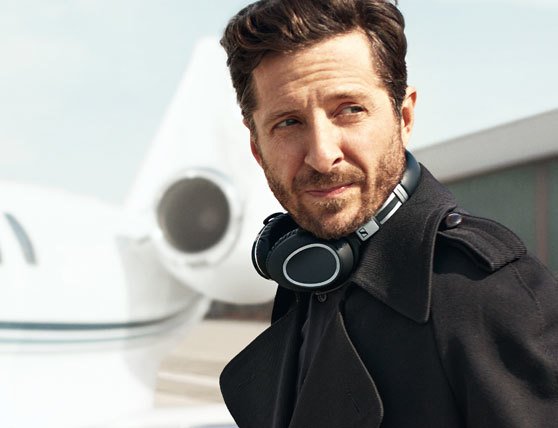 Built-in limiter
The PXC 550 Wireless has a built-in limiter that avoids sudden and extreme sound level peaks, e.g. when you are connected to an in-flight entertainment system that is also used for crew announcements.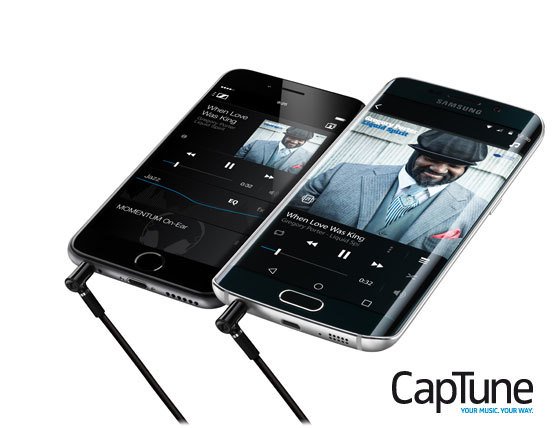 CapTune support
The PXC 550 Wireless is fully compatible with CapTune, Sennheiser's premium quality music player and powerful sound tuning app to perfectly adjust the feel of your music to your personal preference.
Fold control
The PXC 550 Wireless seamlessly anticipates your needs by powering on as you unfold it, automatically pausing your track when you remove it and switching off when you fold it away.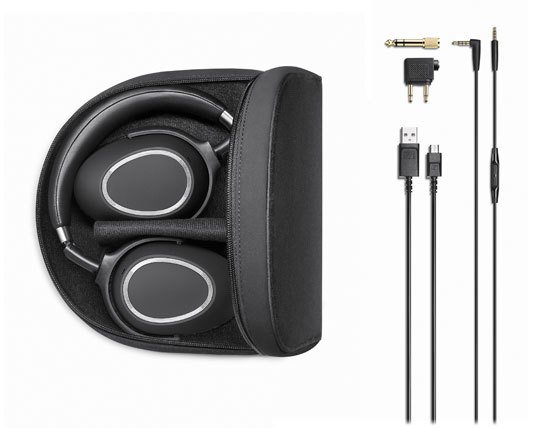 Accessories
The PXC 55O comes with: cable with inline remote control, carry case, USB cable, IFE adapters, quick setup and safety guide.
Specifications
Weight w/o cable
227g
Operating time
Up to 30 hours
Pick-up pattern
3-Mic Beamforming Array
Charging time
3 hours (full charge)
Transducer principle
Dynamic closed
Ear coupling
Circumaural
Contact pressure
3 N
THD, total harmonic distortion
<0.5% (1kH, 100dB)
Sound pressure level (SPL)
110 dB
Supported Profiles
Headset Profile (HSP) v.1.2 / Handsfree Profile (HFP) v.1.6 / Advanced Audio Distribution Profile (A2DP) v.1.3 / Device ID Profile (DIP) v.1.3
Bluetooth Version Bluetooth
4.2
Frequency response (Headphones)
17 - 23,000 Hz
Impedance Active
490 Ω / Passive 46 Ω
Wearing style
Headband
FM Audio Video balances product selection and depth with accessibility and a customer service staff that can demystify your home stereo, car audio or home theatre purchase. We have years of combined consumer electronics experience and our wealth of knowledge and understanding is the asset that helps us shine in a ocean of complacency and misinformation.
Expert
Custom Installation
We offer the finest custom installations along with expertise and personal service.
Expert
Custom Installation
We offer the finest custom installations along with expertise and personal service.
Authorized Dealer
Car Audio
FM Audio Video has been satisfying the Car Audio & Multimedia needs in Brantford and surrounding areas.
5 Pounds of Coffee
Price Match Guarantee
We will give you 5 pounds of coffee if we don't beat your best offer.
We have a large collection of exceptional brands
---