Marantz Integrated Amplifier PM8006
Marantz Integrated Amplifier PM8006
PM8006 (Each)
Availability
Schedule Delivery
---

With a fully discrete current feedback design, the PM8006 integrated amplifier is perfect for audiophiles wanting both excellent music quality and flexible operation. It offers a powerful 2x 70W into 8 ohm, while the symmetrical circuits ensure optimal imaging. To ensure the most involving musical experience, the amplifier uses a new Marantz-designed electric volume control and brand-new Marantz Musical Phono EQ phono preamp stage, designed to get the purest signal from beloved vinyls by minimized noise levels. To further remove interference, new isolating feet are used to support the amplifier, combining high density and a damping fibre.
The PM8006 also includes preamp outputs along with a power amp direct input, which lets you use the unit as a standalone power amplifier for integration into a multi-channel home theater system. For precise sound tailoring, our triple tone control system provides separate controls for the bass, midrange and treble. The elegant remote control features an ergonomic layout for easy operation, and can control accompanying source players.
Key Features
Integrated Current Feedback Amplifier with 2x 70W / 8 ohm rms
Newly designed electric volume circuit
Exceptional Marantz Musical Phono EQ stage
Marantz proprietary HDAM-SA3 circuits
Triple layer bottom plate
Gold Plated Inputs/Outputs incl. Phono (MM) input
Double shielded Toroidal Transformer and high quality customized components
High quality, original Marantz SPKT-1+ Speaker Terminals (A / B switchable)
Available in black or silver-gold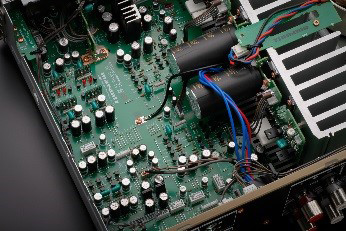 Current Feedback
Current Feedback amplification is a well-known, Marantz-original circuit technology, suiting perfectly with the requirements of Super Audio hi-res music for wide-bandwidth, high-speed reproduction. The impedance at the Current Feedback point is limited resulting in a very low phase shift, meaning Marantz Current Feedback amplifiers reduce the need for phase compensation via Negative FeedBack (NFB) to a minimum. This simplified the signal path, resulting in high through-rate, excellent transient response and superb sonic transparency across the full bandwidth. Unlike conventional Voltage Feedback topology, Current Feedback also makes the power amplifier insensitive to difficult loudspeaker loads.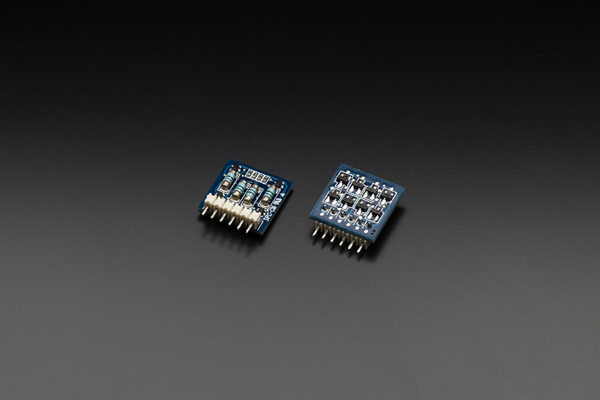 Marantz HDAM Technology
Marantz developed its own discrete circuit boards, called Hyper-Dynamic Amplifier Modules, or HDAMs, to replace the chip based amps used elsewhere. Using discrete surface mount components with short mirror-image left and right signal paths, HDAMs outperform the regular integrated Op-amps dramatically in Slew Rate and noise level, resulting in a much more dynamic, accurate and detailed sound. Over the years Marantz has developed different HDAMs to fit the particular requirements of players and amplifiers: the PM8006 uses the high-grade SA3 version.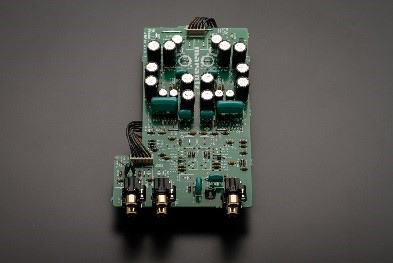 Marantz Musical Phono EQ
For a long time, Marantz integrated amplifiers have featured high-quality phono stages, but now the company takes its commitment to vinyl to new levels with the Marantz Musical Phono EQ stage, launched in the PM8006 amplifier. This unique technology, simplifying the signal path in the phono stage for optimal sound quality, underlines the company's commitment to the very best playback of all music sources, be they digital or analogue. Marantz Musical Phono EQ uses two-stage amplification, allowing less gain per stage, for lower distortion. Of course, being a Marantz design it uses the company's HDAMs, but here they're combined with JFETs (junction gate field-effect transistors) in the input stage, giving a high input impedance. This allows the deletion of the AC coupling capacitors previously used providing a simpler signal path for the tiny output from a phono cartridge, improving signal purity.
Marantz has also rethought the re-equalization process within the phono stage, a fundamental part of vinyl replay required to compensate for the limitations of the format. In the Marantz Musical Phono EQ stage this re-equalization is split into passive and active sections, for more accurate equalisation: the RIAA correction is carried out within an HDAM, while amplification is in the hands of a high-quality op-amp, running in Class A mode for minimal distortion, and delivering a clean and open sound. With Marantz Musical Phono EQ there's no need to consider upgrading the PM8006 with offboard phono stage: as part of Marantz's commitment to optimising playback of all format, be they digital or analog, the amplifier already has premium-class phono capability built-in.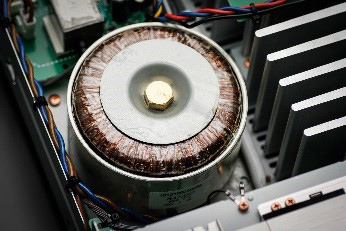 Toroidal Transformer
A Toroidal transformer has several advantages over a normal EI core transformer. It is very efficient and therefore delivers more power compared to the same size of an EI core transformer. In addition, due to its shape, the electromagnetic radiation and the mechanical vibration are extremely low all ending in a better sound quality.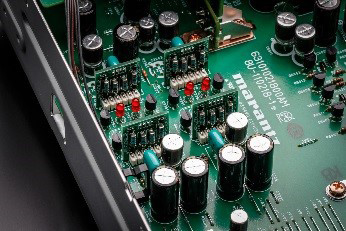 Often under-estimated: a high-quality volume control
A newly developed electric volume control using the latest volume control IC realizes better channel separation, dynamic range and distortion-reduction, while retaining the operational feel of an analogue volume control device. To ensure the most involving musical experience, the amplifier uses a new Marantz-designed electric volume control for high linearity and best-in-class channel separation.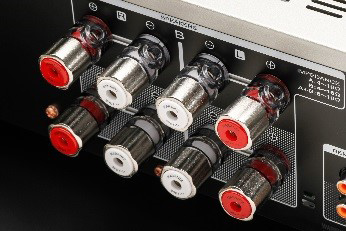 High quality, original Marantz SPKT-1+ Speaker Terminals
The terminals are made of massive brass with a thick silver plating for the best possible contact with the speaker cables, and the main speaker terminals are mounted lower, and thus closer to the main circuit board, to reduce the signal path. That's in keeping with the entire design of the amplifier, which uses the shortest possible signal paths and High Instantaneous Current topology for better speed and dynamics.
Features
Channels
2
Current Feedback Topology
Yes
Full balanced circuitry architecture
No
Double Mono Power Amp construction
No
Phono EQ: Standard / Class A / Constant Current Feedback
No/ Yes /No
Digital in: USB-B / optical / coaxial / USB-A
No/ No/ No/No
Sample Rate Digital In
No
USB-A: DSD / WAV / FLAC / AIFF / ALAC
No
USB-B DSD Audio Streaming (DoP): DSD2.8 / DSD5.6
No
USB-B PCM sample rate
No
DAC chip
No
Asynchronous mode rear USB
No
Bit-perfect transmission
No
Ground isolator for DAC Mode operation
No
Bluetooth / aptX / NFC
No
Streaming audio from PC
No
Wi-Fi / Wired LAN
No
Internet radio
No
AirPlay Audio Streaming
No
Windows Play to
No
vTuner / Spotify*
No
DLNA certified
No
DSD-Audio network streaming
No
Lossy formats: MP3 / WMA / AAC
No
Lossless formats: DSD / FLAC HD 192/24 / ALAC 96/24 / WAV 192/24 / AIFF
No
Gapless Playback
No
Remote APP: iDevice / Android
No
Analog mode
No
HDAM version
SA3, SA2
Power Transformer: Toroidal / El
Yes/No
High Grade Audio Components
Yes
Customised Components
Yes
Symmetric PCB Layout
Yes
Aluminium extrusion heat sink
Yes
Copper plated chassis
No
Tri Tone Control (Bass / Mid / Treble)
Yes
Balance / Bass / Treble / Loudness
Yes/Yes /Yes /No
OTHERS
Marantz Musical Digital Filtering
No
Linear Drive Power Supply
Yes
Liniear volume control
Yes
BI-AMP and Multichannel option
No
Shottky diodes
Yes
Input buffer amp (all inputs / CD only)
No/Yes
System block shielding: copper / metal / none
No/ No /Yes
Double Layer Bottom Plate
triple
Low Noise OELD display
No
Low noise LCD display
No
Source Direct
Yes
Power Amp direct
Yes
5mm aluminium top plate
No
INPUTS/OUTPUTS
Audio Inputs
6
Digital in: USB-B / optical / coaxial / USB-A
No/ No/ No/No
Phono Input: MM / MC
Yes/No
Audio Outputs
1
Balanced In / Out
No/No
Pre-out / Main-in
1 /No
Power Amp Direct IN
Yes
Gold Plated Cinch
Yes
Speaker A / B
Yes
Speaker Terminals
Marantz SPKT-1+
Number of terminals
4
D-Bus
Yes
Floating Control Bus (3.5 mm mono jack x 2)
No
Headphone Out
Yes
Headphone Gain Control (low / mid / high)
No
Specifications
Power Output (8 / 4 Ohm RMS)
70 W / 100 W
Frequency Response
5 Hz-100 kHz
Total Harmonic Distortion
0.02 %
Damping Factor
100
Input Sensitivity: MM
2 mV / 47 kOhm
Input Sensitivity: MC
No
Signal to Noise Ratio: MM / MC
87 dB /No
Input Sensitivity: High level
200 mV / 20 kOhm
Input Sensitivity: Balanced High level
No
Signal to Noise Ratio: High level
106dB(2V input)
Input Sensitivity: Power Amp Direct IN
1.6V / 15 kOhm
Signal to Noise Ratio: Power Amp Direct IN
125 dB
GENERAL
Available colors: Gold / Silver / Black / Silver-Gold
No/ No / Yes /Yes
Metal Front Panel
Yes
Power Consumption in W
220
Standby Consumption in W
0.2
Auto power off
Yes
Detachable Power Cable
Yes
Remote Control
RC001PMND
System Remote Function
Yes
Maximum Dimensions (W x D x H) in mm
440 x 379 x 128
Weight in kg
12.0
FM Audio Video balances product selection and depth with accessibility and a customer service staff that can demystify your home stereo, car audio or home theatre purchase. We have years of combined consumer electronics experience and our wealth of knowledge and understanding is the asset that helps us shine in a ocean of complacency and misinformation.
Expert
Custom Installation
We offer the finest custom installations along with expertise and personal service.
Expert
Custom Installation
We offer the finest custom installations along with expertise and personal service.
Authorized Dealer
Car Audio
FM Audio Video has been satisfying the Car Audio & Multimedia needs in Brantford and surrounding areas.
5 Pounds of Coffee
Price Match Guarantee
We will give you 5 pounds of coffee if we don't beat your best offer.
We have a large collection of exceptional brands
---