Klipsch Klipschorn AK6 Floor-Standing Speaker (Walnut) - KHORNAK6W
Klipsch Klipschorn AK6 Floor-Standing Speaker (Walnut) - KHORNAK6W
KHORNAK6W
Klipsch Klipschorn AK6 Floor-Standing Speaker (Walnut) - KHORNAK6W
KHORNAK6W
$10999.00
Klipsch Klipschorn AK6 Floorstanding Midrange Loudspeaker - KHORNAK6C
KHORNAK6C
$10999.00
Klipsch Klipschorn AK6 Floorstanding Midrange Loudspeaker - KHORNAK6B
KHORNAK6B
$10999.00
Availability
Schedule Delivery
---
The iconic Klipschorn is the original, three-way, fully horn-loaded loudspeaker that laid the foundation for the Klipsch brand. In its latest rendition, this historic speaker boasts an all-new neodymium tweeter, premium wire management system, and fully-enclosed design for flexible placement.
Features:
Fully Horn-Loaded Three-Way Loudspeaker
All-New Neodymium Tweeter
All-New Enclosed Low Frequency Horn Design
Premium Input and Wire Management System
Book-Matched Wood Veneer
Designed and Engineered in the USA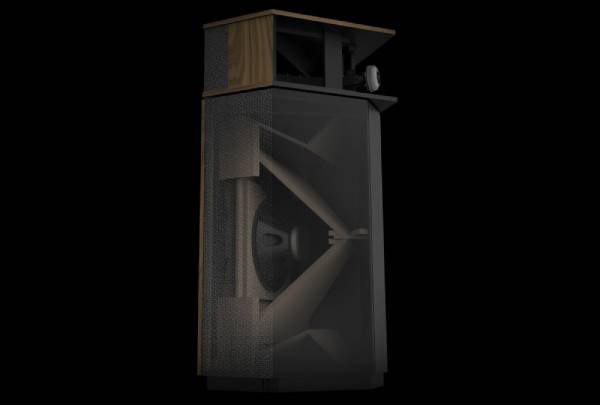 FULLY HORN-LOADED
The Klipschorn is the only fully horn-loaded loudspeaker available to consumers. With its three-way system, each driver is coupled to a horn and optimized to operate in its individual pass-band. This allows the Klipschorn to be a staggering 10 to 20 times more efficient than other conventional loudspeakers. Higher efficiency yields greater acoustic power, which is generated with considerably less effort. The result is the cleanest, most dynamic sound possible throughout the entire musical range.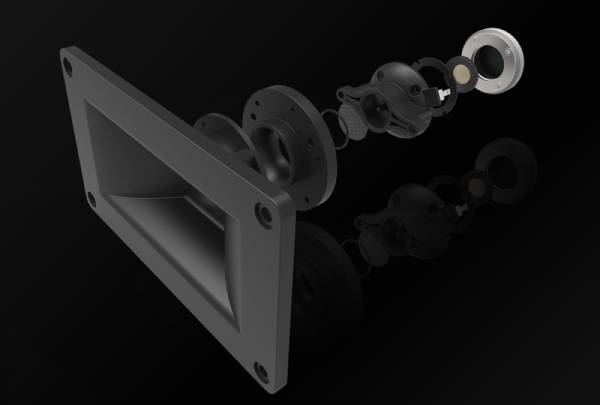 NEODYMIUM TWEETER
The Klipschorn features a neodymium tweeter with a 1" polyimide diaphragm and copper clad aluminum voice coil. This lightweight diaphragm assembly and high strength magnet structure creates the tweeter's extremely high 109dB sensitivity and makes it the most efficient consumer tweeter in the market. When coupled to a 90° x 40° Tractrix® horn, the tweeter sets new levels of performance for dynamic range and output. The phase plug design extends high frequency performance to 20kHz, meaning you hear the most subtle high frequency details better than ever.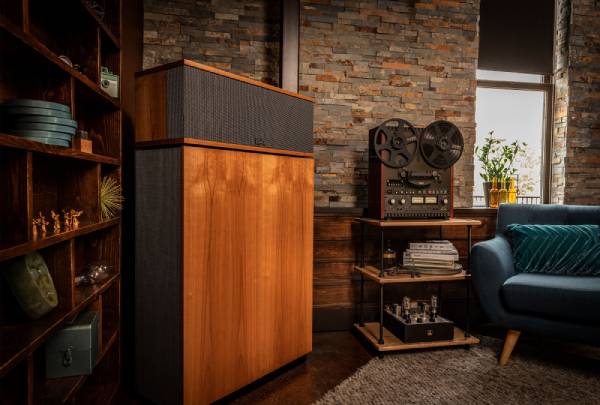 ALL-NEW ENCLOSED DESIGN
The Klipschorn's low frequency horn has been redesigned and is now fully enclosed. This eliminates the need for the loudspeakers to be positioned tightly in the corner of a listening room. The speaker only needs to be in the proximity of the corner to realize the horn's full performance. Additionally, the enclosed back provides positioning flexibility to angle the speaker to achieve the best stereo imaging.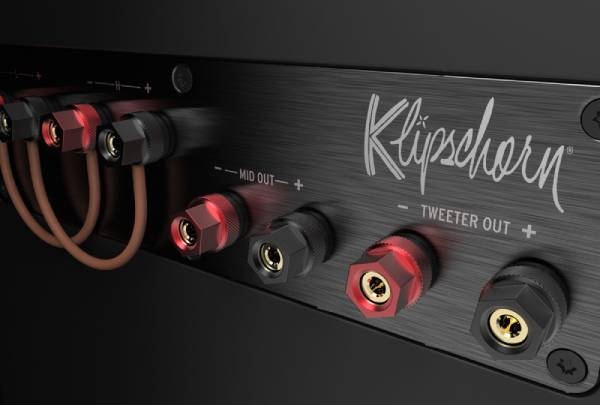 PREMIUM INPUT + WIRE MANAGEMENT
The Klipschorn features a riser base that not only enhances the look of the speaker, but also improves the wire management so that speaker cables are cleanly hidden.
The Klipschorn's premium, aluminum input panel accommodates large, high-quality speaker cables. Strong, versatile and quality binding posts provide the capability for bi-wiring or bi-amping. The quality continues with AudioQuest Type 4 with Star-Quad Geometry internal wiring featuring carbon-loaded insulation, nitrogen-injected PE and solid long-grain copper conductors.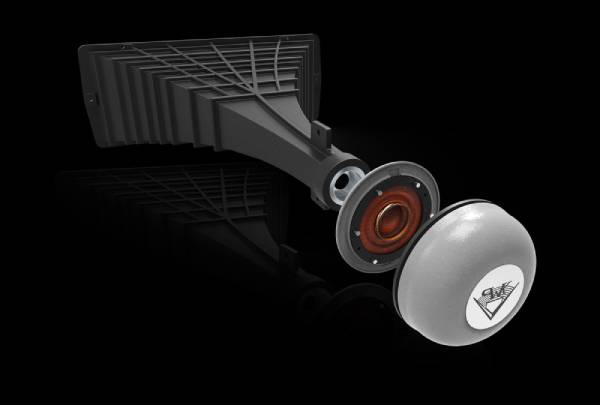 MIDRANGE
According to Paul W. Klipsch, "the midrange is where we live" and is one of the most critical parts in any loudspeaker design. The Klipschorn's midrange utilizes a 1 ½" compression drivers mated to a high efficiency exponential horn that maximizes the system's power and performance. As a result, less distortion is produced by the amplifier and by the loudspeaker. That means clarity, accuracy and remarkable tonal definition.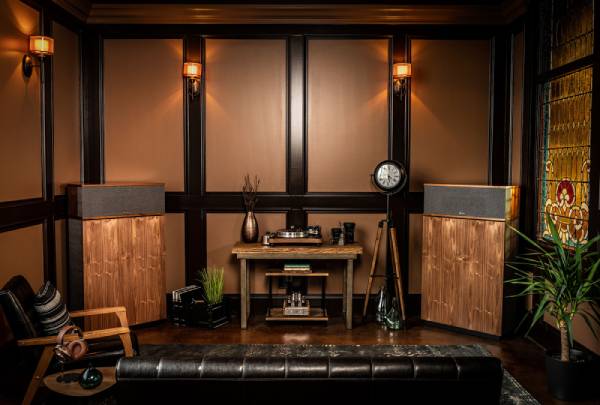 BOOK-MATCHED WOOD VENEER
Klipsch only uses book-matched wood veneers for the Heritage series of speakers. The veneer leaves are kept in order as they are delicately sliced from the timber and precisely arranged to provide a mirror image at the splice joint — like turning the pages of a book. This gives each speaker an aesthetically appealing and consistent appearance that is treasured more than any other cut of wood veneer.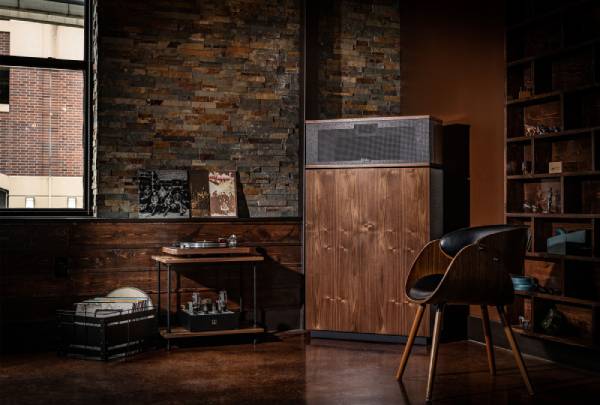 MATCHED PAIRS
Each pair of Heritage series loudspeakers is grain-matched, using wood veneer panels that come from the same timber. Each cabinet is carefully matched so that each speaker in the pair is practically identical to each other. While the speakers move seamlessly together through the factory, each finished product is inspected and labeled with sequential serial numbers, ensuring that every Heritage series speaker leaves the factory as a meticulously crafted set.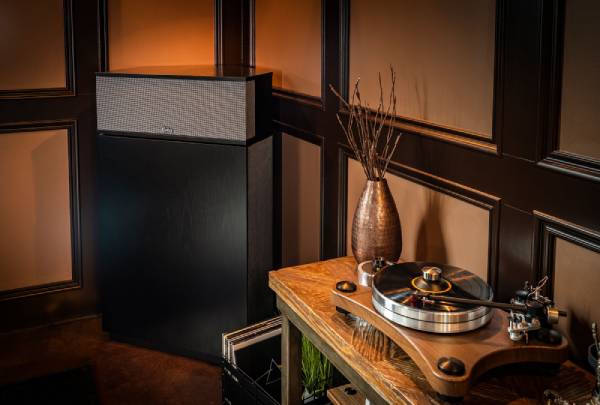 BUILT TO LAST
While each component of the Klipschorn is built to last, Klipsch has always recognized the unique and critical role of a loudspeaker's cabinet in the sound reproduction process. From the craftsmen in Hope, AR, to the engineers in Indianapolis, IN, Klipsch has always put an extraordinary emphasis on cabinet design. Crafted from over a hundred wood panels, the Klipschorn enclosure is assembled using only the highest-grade adhesives and fasteners. This is a speaker you will hand down from generation to generation.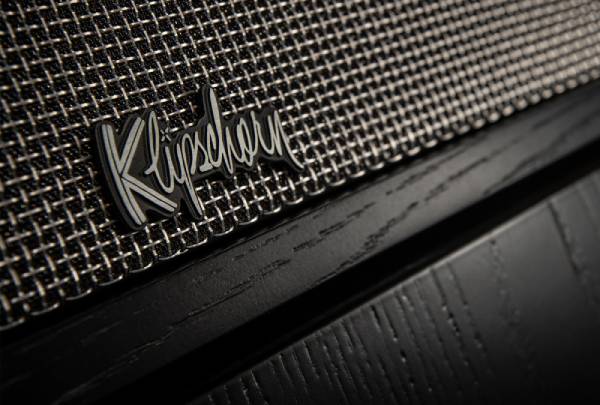 FINISHED IN STYLE
The Klipschorn features an all-new script logo and deluxe silver metallic grille cloth for a nostalgic aesthetic that's reminiscent of this iconic speaker's inception.
Specifications
FREQUENCY RESPONSE (+/- 4 dB)
33Hz – 20kHz
SENSITIVITY1
105dB @ 2.83V / 1m
POWER HANDLING (CONT/PEAK)
100W/400W
MAXIMUM SPL
121dB Continuous
NOMINAL IMPEDANCE
8 ohms Compatible
CROSSOVER FREQUENCY
HF: 4500Hz MF: 450Hz
HIGH FREQUENCY DRIVER
K-771 1" (2.54cm) light-weight Polyimide diaphragm compression driver mated to a 90 x 40 Tractrix horn
MIDRANGE
K-55-X 2" (5.08cm) Phenolic diaphragm compression driver
LOW FREQUENCY DRIVER
K-33-E 15" (38.1cm) Fiber-composite cone woofer with a trihedral exponential folded horn
ENCLOSURE MATERIAL
Birch Plywood and MDF
INPUTS
Dual binding posts / bi-wire / bi-amp
HEIGHT
53" (134.62 cm)
WIDTH
31.25" (79.38 cm)
DEPTH
28.25" (71.75 cm)
WEIGHT
220lbs (100 kg)
FINISH
Satin Black Ash, American Walnut, Natural Cherry
GRILLE CLOTH
Silver Metallic
FM Audio Video balances product selection and depth with accessibility and a customer service staff that can demystify your home stereo, car audio or home theatre purchase. We have years of combined consumer electronics experience and our wealth of knowledge and understanding is the asset that helps us shine in a ocean of complacency and misinformation.
Expert
Custom Installation
We offer the finest custom installations along with expertise and personal service.
Expert
Custom Installation
We offer the finest custom installations along with expertise and personal service.
Authorized Dealer
Car Audio
FM Audio Video has been satisfying the Car Audio & Multimedia needs in Brantford and surrounding areas.
5 Pounds of Coffee
Price Match Guarantee
We will give you 5 pounds of coffee if we don't beat your best offer.
We have a large collection of exceptional brands
---