Klipsch KDA Series DSP Amplifiers KDA500
Klipsch KDA Series DSP Amplifiers KDA500
KDA500
Availability
Schedule Delivery
---
The Klipsch KDA Series DSP Amplifiers offer legendary Klipsch power and performance in a sleek, high-tech, 1 rack unit solution. The KDA- 500 offers 500W of class G/H power, for clean, dynamic power in any type of install.
Features:
500W Total System Power (4 x 125W)
High performance power platform
70V / 100V / Low Impedance Compatibility
Flexible I/O
State-of-the-art DSP control and set-up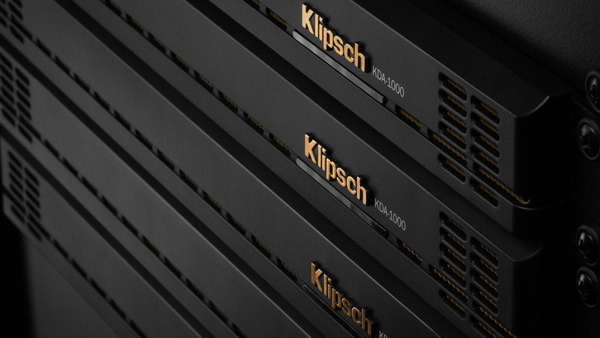 70V / 100V / LOW IMPEDANCE COMPATIBILITY
From small residential systems to massive commercial installs, the Klipsch KDA-1000 is designed for maximum install flexibility — offering low impedance and 70V/100V compatibility for distributed line applications. These impedance settings are fully independent from channel to channel — so an installer can run one channel low impedance with another channel 70V/100V for full customization and optimization of their system.
FLEXIBLE I/O
The KDA-1000 boasts fully matrixed 4x4 I/O with fully balanced Phoenix connector inputs and Phoenix speaker outputs capable of connecting up to 12 gauge wire. For non-balanced connections, RCA inputs and outputs (throughs) are also built-in, making the KDA-500 one of the most flexible power solutions on the market today.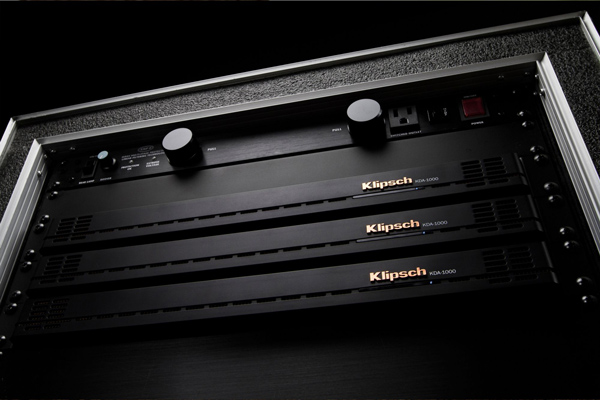 STATE-OF-THE-ART DSP CONTROL AND SET-UP
The myriad of I/O, impedance, and acoustic settings are fully matrixed and customizable through the web-based DSP menu — simply plug in a laptop computer to the RJ-45 port on the back panel of the amplifier, enter the assigned IP address into your favorite web browser to pull up the easy-to-use, streamlined menu page. In addition to password protected channel assignments, gain settings, EQ, and limiting, the DSP provides presets for almost every Klipsch speaker on the market — optimizing acoustic performance and power handling for these products with a single click. Accessing the DSP wirelessly with a tablet, smartphone, or computer is also quick and easy when the KDA amplifier is plugged into the network's wireless router.
Specification
AMPLIFIER TYPE
High Efficiency Class G/H
AMPLIFIER POWER
500W Total System Power, 4 x 125W Per Channel
INPUTS
Balanced: 4 x Phoenix Line Level (up to 12 AWG wire), Unbalanced: 4 x RCA Line Level
OUTPUTS
4 x Phoenix Speaker Level (up to 12 AWG wire), 4 x RCA Line Level (Throughs)
INPUT SENSITIVITY
750mV Balanced, 0dBU
INPUT IMPEDENCE
Balanced 40k
THD
<1% @ Rated Output
SIGNAL-TO-NOISE
-100dB Below Rated Output
ENCLOSURE MATERIAL
Front Face: ABS Plastic, Case: Machine Formed Steel
RACK UNIT
1RU
PRODUCT DIMENSIONS
1.73" x 19.02" x 14.29" (44mm x 483mm x 363mm)
PRODUCT WEIGHT
15 lbs (6.82 kg)
MOUNTING
Removable 1RU Rack Ears, Removable Rubber Feet
BUILT FROM
2016
FM Audio Video balances product selection and depth with accessibility and a customer service staff that can demystify your home stereo, car audio or home theatre purchase. We have years of combined consumer electronics experience and our wealth of knowledge and understanding is the asset that helps us shine in a ocean of complacency and misinformation.
Expert
Custom Installation
We offer the finest custom installations along with expertise and personal service.
Expert
Custom Installation
We offer the finest custom installations along with expertise and personal service.
Authorized Dealer
Car Audio
FM Audio Video has been satisfying the Car Audio & Multimedia needs in Brantford and surrounding areas.
5 Pounds of Coffee
Price Match Guarantee
We will give you 5 pounds of coffee if we don't beat your best offer.
We have a large collection of exceptional brands
---