Kenwood Digital Media Receciver With Front USB & AUX Inputs KMM108U
Kenwood Digital Media Receciver With Front USB & AUX Inputs KMM108U
KMM108U
Availability
Schedule Delivery
---
TDF(Theft Deterrent Faceplate)
Rotary Encoder and Direct Key (iPod & Alphabet) for easy operation
Front AUX & USB Interface with slide protection cover
Sound Reconstruction
MP3/WMA/WAV/FLAC Files Playback with ID-3 Tag Display
Feature Highlights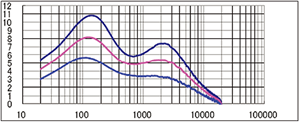 Drive EQ
Road noise is the enemy of all audio systems found in vehicles. The inherent
frequencies of road noise masks a wide range of the audio signal found in music,
and this is the reason KENWOOD engineers developed Drive EQ. Drive EQ boosts
specific frequencies in the audio signal to compensate the negative impact of road
noise.
The Perfect Entertainment Package


Works with Pandora Internet Radio For iPhone & Android
Customized internet radio that plays music based on your favorite
artists. KENWOOD receivers provide a rich Pandora experience.

KENWOOD Music Control For Android Smartphone
Download this free application from Google Play and use the search function to
easily find a track you would like to listen by using the artist name or the
like.*Compatible only with Android smartphones supporting mass storage devices.
General Features
TDF(Theft Deterrent Faceplate)
13 Segment 13 Digit LCD Display
Rotary Encoder and Direct Key (iPod & Alphabet) for easy operation
Music Search & Mixed Preset memory function
Digital Clock (12H)
Key Illumination (Red)
Manual Dimmer Control Function (on/off)
Audio Features
Maximum Output Power : 50W x 4 (MOSFET Power IC)
Front AUX & USB Interface with slide protection cover
1 Preout (2.5V)
Sound Reconstruction
Drive EQ
Rear/Subwoofer Switchable
Subwoofer Level Adjustable
System Q
Bass Boost
Loudness
Built-in LPF
USB Features
MP3, WMA, WAV, FLAC Files Playback with ID-3 Tag Display
iPod/iPhone Direct Connection with Optional cable
iPod Alphabet/Skip/2 Speed Search Function
Pandora / App Ready (iPhone App)
TuneIn / TuneIn Pro / Aupeo! Support (iPhone App)
Compatible with KENWOOD Music Control for Android
Tuner Features
FM/AM 24 Station Presets (18FM, 6AM)
Backup Memory for Tuner Preset
AME (Automatic Memory Entry)
Up/Down Seek Tuning
FM Stereo/Mono Selector
External Media Control Features
OEM Remote Interface
AM
Usable Sensitivity
S/N:20dB 29dBμ (28.2μv)
Channel Space Selection
-
Frequency Range
(Frequency step) 530kHz - 1700kHz (10kHz)
FM
Stereo Separation
40dB(1kHz)
S/N
64.0dB(MONO)
Frequency Response(±3.0dB)
30Hz-15kHz
Quieting SensitivityS/N 46dB
17.2dBf (2.0μV/75Ω)
Usable SensitivityS/N:30dB
8.2dBf (0.71μV/75Ω)
Channel Space Selection
-
Frequency Range
(Frequency Step) 87.9MHz - 107.9MHz (200kHz)
GENE
Net Weight 0.54(kg) 
1.19(lbs)
Installation Size (W) (H) (D)
182(mm) 7-3/16(in), 53(mm) 2-1/8(in), 159(mm) 4-3/16(in)
Operational Temperature Range
'0°C to +40°C
Maximum Current Consumption
10A
Operating voltage (10.5v - 16v allowable)
14.4v
TONE
Treble
12.5kHz ±8dB
Middle
2.5kHz ±8dB
Bass
200Hz ±8dB
AMP
Full Bandwidth Power (at less than 1%THD)
22wx4
Maximum Power
50wx4
AUX Input
Input Impedance
30KΩ
Input Maximum Voltage
1200mV
Frequency Response
20 - 20KHz ±3dB
Specifications
Speaker Impedance(Ω)
4-8Ω
Preout Impedance(Ω)
≦600Ω
Preout Level(mV)/Load-Unbalanced
2500mV/10kΩ(CD)
USB
FLAC Decode
FLAC files
WAV Decode
RIFF waveform Audio Format (Linear PCM only)
AAC Decode
-
WMA Decode
Compliant with WINDOWS MEDIA AUDIO
MP3 Decode
Compliant with MPEG-1/2 Audio Layer-3
Channel Separation
90dB
Dynamic Range
88dB
S/N Ratio (dB)
105dB(1kHz)
Frequency Response
20-20kHz(±1dB)
Maximum Supply current
DC5V(DC logo) 1A
USB Standard
USB1.1/2.0 full speed
File System
FAT 12/16/32
FM Audio Video balances product selection and depth with accessibility and a customer service staff that can demystify your home stereo, car audio or home theatre purchase. We have years of combined consumer electronics experience and our wealth of knowledge and understanding is the asset that helps us shine in a ocean of complacency and misinformation.
Expert
Custom Installation
We offer the finest custom installations along with expertise and personal service.
Expert
Custom Installation
We offer the finest custom installations along with expertise and personal service.
Authorized Dealer
Car Audio
FM Audio Video has been satisfying the Car Audio & Multimedia needs in Brantford and surrounding areas.
5 Pounds of Coffee
Price Match Guarantee
We will give you 5 pounds of coffee if we don't beat your best offer.
We have a large collection of exceptional brands
---