JVC Wireless TV Headphone System with Exofield Home Theater Processing - XP-EXT1
Wireless Home Theater System featuring EXOFIELD out-of-head localization sound field processing technology that reproduces immersive multi-channel sound source (7.1.4ch)

EXOFIELD THEATER
Personal Home Theater System 'XP-EXT1'
The XP-EXT1 features JVC's proprietary EXOFIELD out-of-head localization sound field processing technology that reproduces multi-channel audio up to 7.1.4 channels.
It replicates a realistic, immersive sound experience with multi-channel audio using headphones that gives the sensation that the sound is coming from virtual speakers, achieved through three-dimensional sound field reproduction that is optimally customized according to personal characteristics.

Realistic Multi-channel Sound Field (7.1.4ch)
In addition to stereo 2ch, the XP-EXT1 system reproduces 7.1.4ch multi-channel sound . You can enjoy audio formats such as Dolby Atmos® and DTS: X® which are used in the latest video software for a realistic sound field comparable to listening to a multi-channel speaker system.

Supports Up-mixing of 2ch and 5.1ch Material to 7.1.4ch
In addition to reproducing surround sound formats such as Dolby Atmos® and DTS:X®, the XP-EXT1 system supports up-mixing of two-channel and 5.1-channel material to 7.1.4 channels, allowing you to enjoy omnidirectional, spacious sound.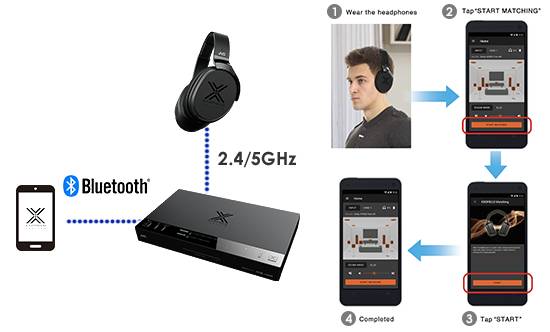 Dedicated Smartphone App for Measuring Personal Characteristics
The dedicated smartphone app allows you measure your personal characteristics at home easily using a microphone in the headphones.
The optimal speaker characteristics and localization are reproduced according to each individual by matching the optimal speaker characteristics stored within the in-app database. Remote operations such as equalizer adjustment can also be performed from a smartphone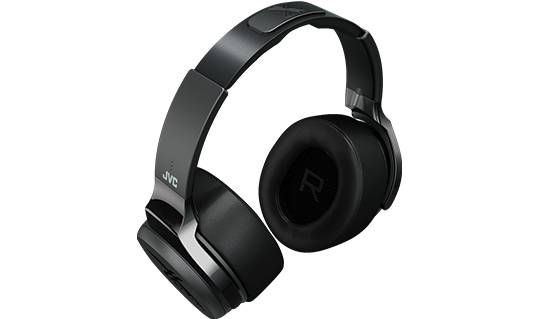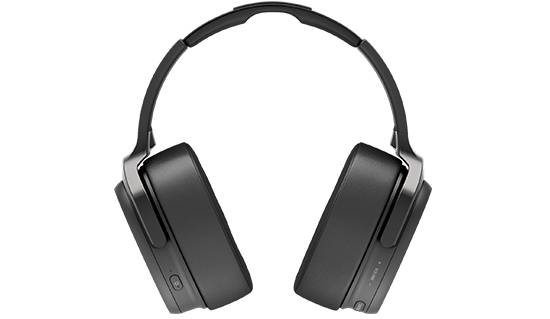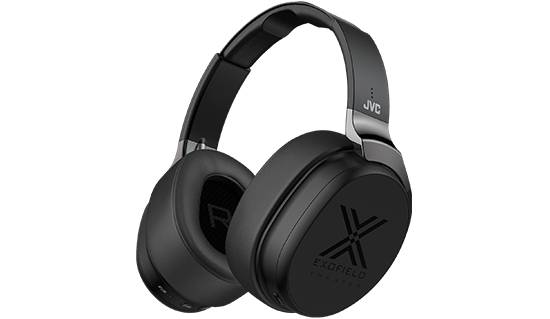 Powerful Sound and Comfortable Fitting
You can enjoy powerful sound with realistic sensation thanks to the headphones large-diameter φ40mm high magnetic force neodymium driver unit.
The large soft ear pads provide increased sound insulation and comfortable listening during extend use.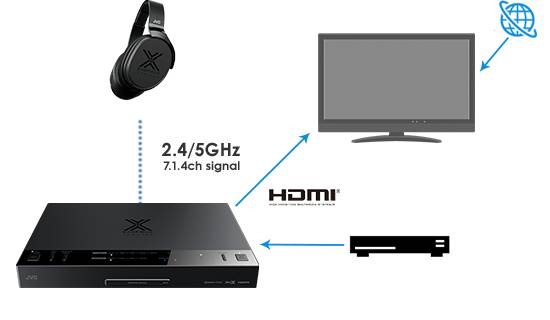 The digital sound processor
The XP-EXT1 digital sound processor and headphone unit are connected through 2.4/5GHz dual band digital wireless transmission. The system selects a transmission band that is less likely to cause interruptions according to the surrounding environment and allow s the sound to stream smoothly.
In addition, the user can pick the most suitable sound by choosing one of the four selectable sound modes(CINEMA/MUSIC/GAME/CUSTOM) .
The transmitter has three HDMI inputs which can connect up to three devices simultaneously, such as Blu-ray player/recorder , 4K satellite broadcasting tuner, or HD streaming device.
Features
Realistic Multi-channel Sound Field (7.1.4ch)
Supports Up-mixing of 2ch and 5.1ch Material to 7.1.4ch
The newly developed dedicated smartphone app allows users to easily measure their personal characteristics
A powerful and wide-range, large-diameter 40mm high magnetic force neodymium driver unit
Large soft ear pads for comfortable listening experience for many hours
Four sound modes (CINEMA/MUSIC/GAME/CUSTOM)
General
Accessories
Dedicated storage pouch for headphone, USB cable for recharging, cable for personal measurement, AC adapter
Effective transmission angle
omnidirectional
Transmitter
Power Supply
DC12V ( for use with the dedicated AC adapter )
Input terminal
HDMI x3, Optical Digital x1, Analog x1
Output terminal
HDMI x1
Dimensions
(10.47"W x 6.06"L x 1.18"H)
Weight
Approx.530g ( not including AC adapter and connecting cord )
Headphones
Driver
40mm
Power Supply
DC3.7V, built -in lithium polymer rechargeable battery