Bowers & Wilkins Bluetooth Wireless Music Systems T7
T7 Bowers & Wilkins wireless speaker
T7
Stunning sound in places other speakers can't reach. This portable, wireless Bluetooth® speaker is small enough to go anywhere, runs 18 hours on a single charge, and packs a mighty punch.
T7 features high-resolution aptX® for crystal-clear audio, and bespoke drivers for room-filling spectacular sound.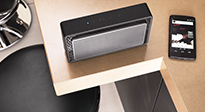 Bluetooth aptX, anywhere
Stream wirelessly from any Bluetooth® device. T7 uses aptX® for high-resolution audio - delivering your music in more detail.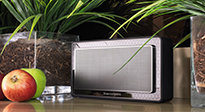 Small and mighty
Over 40 years of audiophile engineering, shrunk to fit. Stunning sound, 18-hour battery and wireless, portable convenience - T7 has it all.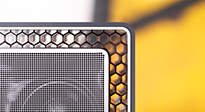 Braced for impact
Micro Matrix honeycomb cabinet bracing reduces vibration and distortion. Just one of several unique T7 innovations from Bowers & Wilkins.