Bowers & Wilkins 600 Series Decoupled dual-layer speaker HTM61 S2
Bowers & Wilkins The perfect partner for the 683 S2 in a commanding home theatre system, this true three-way centre speaker features two 6.5-inch drivers, an FST midrange and a Decoupled Double Dome tweeter.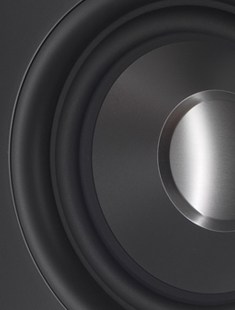 The HTM61 S2 now features a Decoupled Double Dome tweeter, ideal for delivering the clarity needed for dialogue. The double dome enhances rigidity without adding weight, for a more precise response, while decoupling the tweeter from the main enclosure removes unwanted resonances and vibration. The result is absolutely clear.
Using construction techniques found in the 600 Series floorstanders, the HTM61 S2 also features two 6.5-inch bass drivers that use new aluminium cones, for an ideal mix of punch and precision.
Below the Decoupled Double Dome tweeter and between the two 6.5-inch bass drivers lies an FST enclosure midrange driver. And to the rear of the speaker are two Flowports. Together these ensure stunning audio clarity is carried across the entire frequency range, and a new symmetrical design improves intergration and sound dispersion. The result is a serious centre speaker - stunning for big-screen action.
Specifications
Technical features
Decoupled Double Dome aluminium tweeter with Nautilus™ tube loading Kevlar® brand fibre cone FST™ midrange driver Dual-layer aluminium cone bass driver Flowport™
Description
3-way vented-box system
Drive units
1x ø25mm (1 in) aluminium dome high-frequency 1x ø100mm (4 in) woven Kevlar® cone FST™ midrange 2x ø165mm (6.5 in) aluminium cone bass
Frequency range
-6dB at 42Hz and 50kHz
Frequency response
50Hz - 22 kHz ±3dB on reference axis
Dispersion
Within 2dB of reference response Horizontal: over 20º arc Vertical: over 60º arc
Sensitivity
88dB spl (2.83V, 1m)
Harmonic distortion
2nd and 3rd harmonics (90dB, 1m) <1% 95Hz - 22 kHz <0.5% 180Hz - 20 kHz
Nominal impedance
8Ω (minimum 5.2Ω)
Crossover frequencies
400Hz, 4kHz
Recommended amplifier power
30W - 150W into 8Ω on unclipped programme
Max. recommended cable impedance
0.1Ω
Dimensions
Height: 218mm (8.6 in) Width: 590mm (23.2 in) Depth: 304mm (12 in) cabinet, grille and terminals
Net weight
17.2kg (37.8 lb)
Finishes
Black Ash