Bowers & Wilkins 600 Series Decoupled dual-layer 1" speaker 684 S2
Bowers & Wilkins 600 Series Decoupled dual-layer 1" speaker 684 S2
684 S2 (Each)
Availability
Schedule Delivery
---
Bowers & Wilkins Room-filling sound without a room-filling speaker cabinet. Slimmer than ever before, the 684 S2 offers an amazing combination of floorstander power, audio performance and unbeatable value.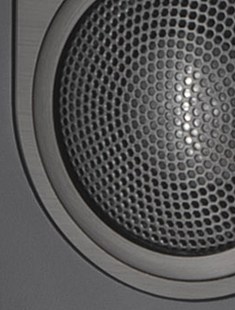 Switching to 5-inch bass/midrange drivers from the previous 6.5-inch cones, means the 684 S2 is now significantly slimmer than its predecessor, with simultaneously improved audio performance, thanks to Bowers & Wilkins innovation. The two Kevlar cone drivers benefit from smaller voice coils to increase sensitivity.
The 5-inch drivers now also feature Anti-Resonance Plug dustcaps, technology taken from our high-end PM1 speakers, that improve pistonic movement inside the voice coil. This helps to deliver amazingly distortion-free midrange performance, all in a smaller space.
As well as slimmer, improved driver performance, the 684 S2 also features a Decoupled Double Dome tweeter. Double dome technology, brought across from the CM10, increases tweeter rigidity for a more precise sound, while the tweeter sits in a gel-filled cavity, decoupled from the surrounding cabinet - which removes resonances and vibrations, for a more natural, spacious sound.
Specifications
Technical features
Decoupled Double Dome aluminium tweeter with Nautilus™ tube loading Kevlar® brand fibre cone bass/midrange drivers Flowport™
Description
2-way vented-box system
Drive units
1x ø25mm (1 in) aluminium dome high-frequency 2x ø130mm (5 in) woven Kevlar® cone bass/ midrange
Frequency range
-6dB at 45Hz and 50kHz
Frequency response
72Hz - 22kHz ±3dB on reference axis
Dispersion
Within 2dB of reference response Horizontal: over 60º arc Vertical: over 10º arc
Sensitivity
87dB spl (2.83V, 1m)
Harmonic distortion
2nd and 3rd harmonics (90dB, 1m) <1% 140Hz - 22kHz <0.5% 180Hz - 20kHz
Nominal impedance
8Ω (minimum 3.5Ω)
Crossover frequencies
4kHz
Recommended amplifier power
25W - 150W into 8Ω on unclipped programme
Max. recommended cable impedance
0.1Ω
Dimensions
Height: 920mm (36.2 in) cabinet only Width: 160mm (6.3 in) cabinet only Depth: 234mm (9.2 in)
Net weight
14.2kg (31.2 lb)
Finishes
Black Ash White
FM Audio Video balances product selection and depth with accessibility and a customer service staff that can demystify your home stereo, car audio or home theatre purchase. We have years of combined consumer electronics experience and our wealth of knowledge and understanding is the asset that helps us shine in a ocean of complacency and misinformation.
Expert
Custom Installation
We offer the finest custom installations along with expertise and personal service.
Expert
Custom Installation
We offer the finest custom installations along with expertise and personal service.
Authorized Dealer
Car Audio
FM Audio Video has been satisfying the Car Audio & Multimedia needs in Brantford and surrounding areas.
5 Pounds of Coffee
Price Match Guarantee
We will give you 5 pounds of coffee if we don't beat your best offer.
We have a large collection of exceptional brands
---